Chicago PD Review: Chicago United
Nick McHatton at . Updated at .
As Chicago PD Season 1 Episode 12 depicts, Voight has earned his shot at redemption.
This was evident when Chief Boden let bygones be bygones by shaking Voight's hand and making sure they caught the mastermind of the tragedy.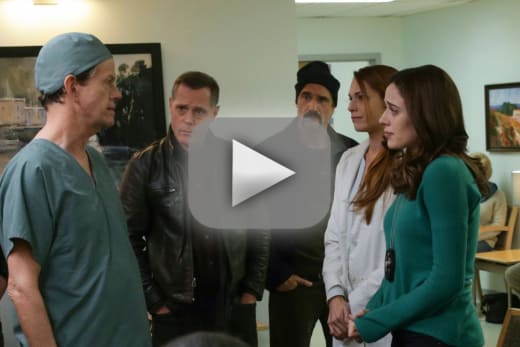 Voight's willing to go behind the FBI and everyone else to save his city from the terror it finds itself under. And rather than find an excuse he knows that, at the end of the case, catching the culprit is most important.
Naturally, Voight's usual methods of capture tend to evoke the approval of the FBI. Voight's methods leads them to a real swell family: headed by a patriarch who is a racist jackass. 
Good on Antonio for kicking him square in the chest. 
However, Chicago PD continues to show that tragedies have actual consequences and many times the innocent are put right in thee crosshairs, as two children are placed in serious condition.
Imogen pays the ultimate price, but there is a sliver of hope that comes out of her death: Burgess' niece is saved thanks to Imogen's liver. 
It's an opportunity to parallel the ending as Voight, Dawson and Olinsky assure themselves that Chicago will bounce back.. that no matter how hurt Chicago gets, there's going to be new people to rise up and rebuild her just as the doctors do for Burgess' niece. 
Elsewhere, while the cops are out finding the bad guys, there's another chance to get just a little more attached to Dr. Arata and Holly. It's disappointing this that this is not backdoor pilot, nor is the show even confirmed to exist yet - but if the series does end up getting a backdoor or standalone pilot somewhere down the line....well, there's another show with the name Chicago in it that I'll be watching.
Chicago Med? Chicago MD? 
Finally, Severide and Lindsay continued their steamy hot romance alive just so long as Severide would stay the night with her.
If Chicago PD/Chicago Fire ever do get a medical spin-off, what would your favorite name be?