Devious Maids Review: The Scheme Team

Christina Tran at . Updated at .
There was so much scheming on Devious Maids Season 2 Episode 4 - and I absolutely loved it. 
I watched tonight's installment with my sister. It was her very first dose of the hilarious maids and their crazy shenanigans. By mid-episode, she was already a fan. When asking her what she thought, she commented about how she liked that Devious Maids reminded her of the women of Wisteria Lane.
So, what happened and brought on yet another fan?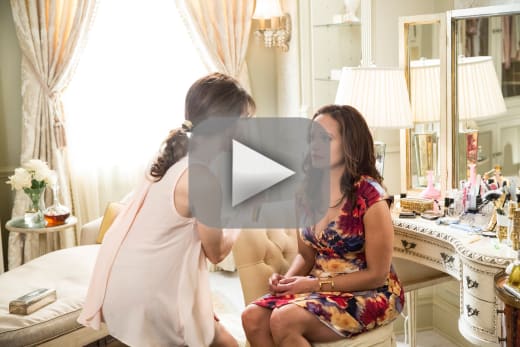 Well, Marisol was still worried that Nicholas could possibly be Ethan's father. She convinced Nicholas to draw up a prenuptial agreement and then found out that Nicholas was leaving five million dollars to Ethan in his will.  
Opal continued to act very strangely and opened up to Marisol, telling her that Nicholas was not Ethan's father. She even went on to tell Marisol that Nicholas was leaving Ethan money out of the goodness of his heart. 
Of course it was all a lie and Nicholas and Opal's secret is still under wraps. 
Unknowingly with Genevieve's help, Zoila brought a successful and handsome man to a family function to make Pablo jealous. I didn't know that they were officially separated. I thought Pablo just needed a break. 
I never really cared for Pablo. The best part of this storyline was how we once again got to see Genevieve and Zoila's incredible relationship. I felt bad when Genevieve admitted that she was helping Zoila so that she wouldn't end up like her. Those two share such a great friendship, and it's fun watching how far they'll go for one another. 
Elsewhere, Evelyn concocted a plan to drive Adrian out of the house just to have some alone time with Tony. Their scheming made me laugh and drove Adrian crazy. However, all good things must come to an end and it can't be long until Evelyn gets bored or Tony wants more. 
Meanwhile, Carmen is Spence's new live-in maid. Of course, she didn't ask Rosie first and Rosie was rightfully upset. I was glad that Carmen came to her senses after talking to Marisol and Zoila and realized that she shouldn't work for Spence if Rosie wasn't comfortable with it. 
Luckily, Rosie's trying to live her life again by dating Ken's nephew and Carmen will be able to keep her job. I liked Rosie and Spence, but it'll be good for her to experience something new and different. What she had with Spence was always so complicated. 
Other Thoughts:
I was surprised to see Taylor again. She mentioned that Michael's firm offered him a job in D.C. and that they would talk about adoption once they were settled in. Good for them! 
Ethan seems like such a nice guy and what he did for Valentina with the sketch pad and vacuuming was really sweet. It's going to be interesting to see what happens once Remi returns.
One of my favorite moments was when Carmen was playing translator for Spence and an interviewee.  
We found out that the supposedly young fan is still alive after attempting suicide last week. It was nice to be able to get a break from the burglary storyline. 

Don't forget to check out our

Devious Maids quotes

section for some LOL-worthy moments.
Overall, I thought "Crimes of the Heart" was fun with just the right amount of drama. We were able to see just how strong the bonds are between the women of this show and that's one of the main reasons I love Devious Maids. 
Was Rosie right to ask Carmen to quit her new job?