Well, that happened. Sliced body parts, threesomes, leaked corporate information... it was definitely an interesting hour of Mad Men.
Don and Betty continued on their similar paths of fighting back on Mad Men Season 7 Episode 5, while Megan and Ginsberg succumbed to paranoia in awkward and devastating fashion.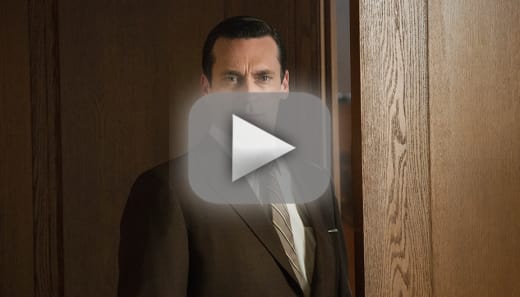 Poor Ginsberg
Having Lou in the office is enough to make anyone paranoid, but adding a huge computer to the mix can make a strange little man like Michael Ginsberg go absolutely nuts. He hated the hum of the machine, and felt as it it were placed there to drive them all crazy, or make them all into homosexuals.
That feeling was given credence when he was working on Saturday and he spotted Lou and Jim speaking in the computer room. Obviously they're homosexual. The only way to combat it was to reproduce with Peggy. Let's be honest, Ginsberg has always been a little cracked, but seeing him fall so completely was tragic.
How do you even explain that he cut off his nipple and gave it to Peggy in a box? He just knows they're coming for everyone. Utter and complete paranoia in the computer age. 
The Strange Brew of Megan, Don, Stephanie and Kim
After Don and Megan had their breakdown, they must have made up because Don had plans to go out to see Megan. When Don received a call from his niece (Anna's niece, Stephanie) that she was pregnant and needed some help, he sent her go Megan and immediately decided to go to California early for a visit.
Megan had no problem accepting Stephanie into her home, but the more they talked, the less she liked what she heard. It seemed like Stephanie knew Don too well and that made Megan jealous of Stephanie, likely because of how quickly Don decided to fly out to see her. Megan wrote her a check and sent her away. Surprisingly, Stephanie didn't even let on to Don how things went down.
Megan tried to appeal to Don in the way she once did with her big French song and dance number, but this time her show was lost on Don. When he didn't take notice, she stopped and in a last ditch effort to control the situation, she offered up her friend Amy as part of a threesome.
The look on Don's face was priceless. He couldn't believe it when it was happening and was still boggled by morning. Unfortunately for Megan, her plan was fruitless. A work situation came up and he intended to leave. He came in for his niece and left for work, barely noting Megan's attempts to win his favor.
Betty Takes a Stand
Outside sharing children together, it sometimes feels odd to check in with Betty since her life is so far removed from Don's now. However, as Don is slowly getting his his life together, so is Betty. She and Henry participated in a neighborhood pot luck and when the topic of Viet Nam came up, she shared her opinion. That didn't go over well.
She and Henry argued over it and Betty finally told Henry she was sick of people telling her how to think. She's an intelligent woman, she speaks Italian and she'll say what she wants when she wants and even sit in the kitchen if that's where she's comfortable. Her fighting spirit makes me wish again that we had known her and Don when their marriage was more than ending on a downward spiral. 
Don Gets His Groove Back
Don has been doing pretty well with his stipulations at the office. He does the work that's required of him and even put off his flight to California when Lou told him to -- he's playing the game. But he's also taking everything in. He watched Lou lose control over his staff over his silly cartoon and even offered him some advice. Lou seemed insulted that Don would offer management advice, but the dude could really use it.
When Harry Crane wandered into Megan's party in Los Angeles, he brought with him information about what Ginsberg witnessed in the computer room between Jim and Lou. They were definitely in cahoots, but it was about bringing in Phillip Morris as a client as a way to get Don out of the firm.
After what Don did with Lucky Strike and the letter telling tobacco companies where they could go, they know that wouldn't go over well. Don surprised them both by showing up at their meeting and offering to leave the firm if they chose to do business with Sterling Cooper. The gesture was appreciated, but Don wasn't finished.
Don went on to remind them about his experience, his knowledge of the opposition and their strategy and how he managed to stave off the government initiative against tobacco years running. He also told them when he was writing the letter, he was trying to save his business, not ruin theirs. He was smart and charming and it was difficult to argue against him.
Whether Don stays at the firm he created or goes on to do better things remains to be seen, but there is no doubt that he runs circles around the men and women who are attempt to close ranks on him and squeeze him out. They know it and that's why they're terrified of him. Even on his worst day, he is their superior. That has to sting.
There are two episodes left in 7A, nine in the entirety of Mad Men. It's winding down quickly. Hit the comments with your thoughts on this episode and what you hope to see in the next two installments. You can always watch Mad Men online if you need refreshers on Don's dealings with Lucky Strike or Megan's Zou Bisou Bisou routine. 
Did Don make the right move with Phillip Morris?
Carissa Pavlica is the managing editor and a staff writer and critic for TV Fanatic. She's a member of the Critic's Choice Association, enjoys mentoring writers, cats, and passionately discussing the nuances of television and film. Follow her on Twitter and email her here at TV Fanatic.