It's been almost a month since Scarlett suffered her onstage breakdown. 
And Nashville Season 2 Episode 20 brought us along for the aftermath of that night.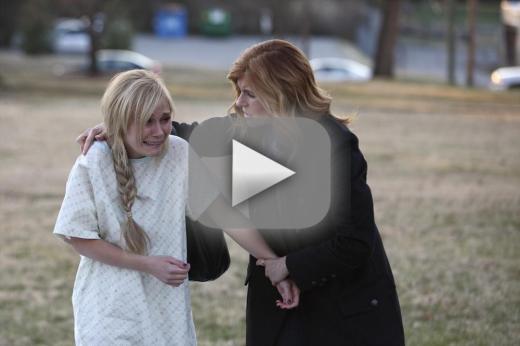 After Avery carried her offstage, Scarlett was checked out by the tour doctor, taken to the nearest hospital and then flown back to Nashville on Juliette's private jet for some private help.
There's was some debate as to what exactly happened to Scarlett on stage, both on the show and in the fan community. What do I personally believe? A combination of alcohol, medication, PTSD and the trigger for that PTSD showing up all led what happened.
Does that mean Scarlett is "crazy?" Contrary to what the title of this review implies, no. I actually don't think that she is. Hear me out...
Everyone is predisposed to certain medical conditions and mental stuff is hereditary. If Scarlett continued down an extremely stressful path and continued to abuse prescriptions that weren't meant for her, then yes; I think she could have ended up needing a visit to "the farm" as Beverly calls it. 
Beverly is a total bitch psycho, by the way. 
I think this "interruption" was a blessing in disguise. Scarlett's realization and choice to walk away from the tour was actually incredibly healthy and smart. She saw she was headed down a dangerous path and she chose to step back. Also, sending Beverly away was an awesome decision.
You can only blame other people for your own problems up to an extent. It's all you in the end. It's taken Deacon years of relapses and struggling to realize that. Beverly still doesn't.
Where will Scarlett go from here? I don't know, but I think that she is immensely talented. Maybe she will end up performing more low profile gigs like Deacon did for awhile or maybe she'll go back to songwriting like Gunnar is doing.
Gunnar sticking up for her to Jeff was my favorite quote of the night.
Scarlett O'Connor has more talent than most of us dream about. She's the one who pulled the good music out of me. I owe her everything. You just called her a looney. You could take your deal and you can go shove it.

Gunnar
'
This was clearly a very Scarlett-centric episode. And anything that isn't Juliette-centric makes for a very unhappy Juliette.
I'm panicked about Scarlett. That was my stage she collapsed on. That was my boyfriend she was clinging to.

Juliette
People have history. I'm sure what happened to Scarlett on that stage was terrifying and Juliette knows better than anyone about mother issues.
Avery was a comforting face and that's what you need when you're under duress. The same way I was so happy to see Scarlett patch things up with Zoe, I think seeing Avery was helpful to Scarlett.
Juliette is just so damn needy and jealous. Nothing romantic or sexual happened with Avery and Scarlett. He said he'll always have a place in his heart for her, that's what happens with people you care about for a long time. Does it mean he currently wants to be with her? No, he went home to Juliette.
Unfortunately, Juliette just undid a season of progress by sleeping with the skeeve Jeff Fordham.
So Gunnar totally caught that. Is he going to squeal? Is Jeff going to try and tank Will's show? Do you think Scarlett made the right choice?
Lastly, is Highway 65 going to tank now that Rayna released Scarlett from her contract?