Orphan Black Review: Knowledge Itself is Power

Carissa Pavlica at . Updated at .
Knowledge itself is power and the most important thing for all of the clones at this point in time is to gain as much of it as they can.
We learned on Orphan Black Season 2 Episode 5 that Rachel's position at Dyad is a step above Dr. Leekie's, but that doesn't mean she can escape the humiliation of a monitor. She is, after all, still a clone and a non-reproducing one at that.
She can call the shots, she thinks, and chooses Paul as her new monitor with Daniel dead and gone thanks to Helena.
Sarah's borderline hysteria at the sight of her sestra has passed and she's trusting Helena to help her find information about their shared past. That becomes even more important when Felix is framed for the murder of a police officer and all hands are needed on deck to free him.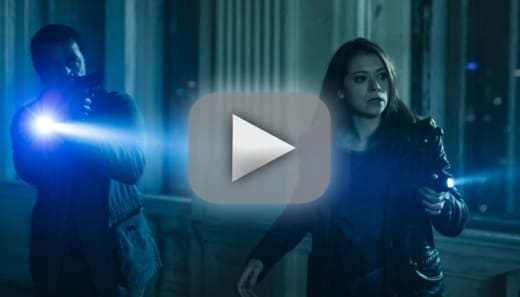 Yes, it really is necessary to have at least one flamboyant and fun Felix scene in every episode of Orphan Black, and we were treated to an exceptionally gregarious one when he hosted his morgue friend on date night. Watching Fee go through his outfits and zip up his pants while dancing to Tears for Fears "Head Over Heels" is as enjoyable as it sounds.
Rachel has other plans, however, and Paul busts in under the guise of the police to plant Fee's fingerprints on a gun. His fate at the end of the hour is up in the air, but seeing him in a truly vulnerable position begging for Paul to forgive him was heartbreaking.
Paul was back in a big way, with his updated status as Rachel's monitor and sex toy. Clearly Rachel wants to prove she's every bit as alluring as Sarah as she seduces Paul, but Paul doesn't seem all that turned on. When he does make a play for her, he's smacked. Rachel wants to know if that's how Sarah likes it. 
Rachel tells Paul that he's always to report to her before Leekie, but when the rubber meets the road, Paul can do what he chooses. There's a power play between Leekie and Rachel going on and neither of them are going to share information on Paul's actions with one another and he knows it. That puts him in a rather enviable position.
Sarah leaves Helena in the capable hands of first Felix and then Art, both who lose the tricky sestra. That's alright. She has a lot of information she needs to share and she only seems to let it out in bits and pieces and when she can spit it out via puzzles that she crafts to lead people to her.
She was hiding a photo of the swan man, who happened to be Dr. Duncan -- Rachel's father -- years after his supposed death in the fire. The fire that destroyed the only known map of the original genome, thus the secrecy behind it. Nobody has it. Unless he's still alive. 
For some reason, Leekie doesn't want Sarah to find Duncan. At least that's how it seemed when he told Paul to follow her and report back to him before Rachel. If he knows Duncan is possibly alive, wouldn't his knowledge of the original genome be helpful? There's obviously more to the story of swan man.
Leekie is turning out to be much different than first anticipated. His decision to circumvent Rachel's obstruction on Cosima's stem cell testing as a gesture of good faith was sincere. Much like Helena, he's not as frightening as he seemed at first. 
Helena decided to take out Rachel, or Paul if Sarah preferred, as the two of them went at it like rabbits in her apartment. Helena's decapitation of a Barbie and her subsequent haircut so she knew which clone she was aiming for was a nice touch.
For now, the twins are off on a road trip to Cold River in search of swan man. Cold River is the place of screams. Henrik should be hot their heels, but he didn't even try looking for Helena in the regular haunts once Bonnie said Gracie could carry the baby if they don't find Helena. 
To be honest, if the Henrik/prolethean part of the saga came to a close for a while I wouldn't shed any tears, but something tells me if he's willing to sew his daughter's lips shut to get her to talk (how's that for an oxymoron), then Helena is hardly in the clear.
I'm really enjoying the growing relationship between Sarah and Helena, but it worries me how much distance is being put between the clones as a group. They aren't relying on each other as much as they did in the past. Their power was not only knowledge, but their strength as a group. Let's hope they find their way back to each other again.
If you've missed any of the series or need to catch up, you can watch Orphan Black online.
Do you think Paul is all in working as Rachel's monitor? 
Carissa Pavlica is the managing editor and a staff writer and critic for TV Fanatic. She's a member of the Critic's Choice Association, enjoys mentoring writers, conversing with cats, and passionately discussing the nuances of television and film with anyone who will listen. Follow her on Twitter and email her here at TV Fanatic.