Penny Dreadful Review: A Frightening and Sorrowful Start

Michelle Carlbert at . Updated at .
Old horror stories were given a new, emotional twist on Penny Dreadful Season 1 Episode 1.
I'm not what you'd call a conventional fan of horror. I like slashers because they make me laugh, but I also really like those stories than can get multiple emotions out of me.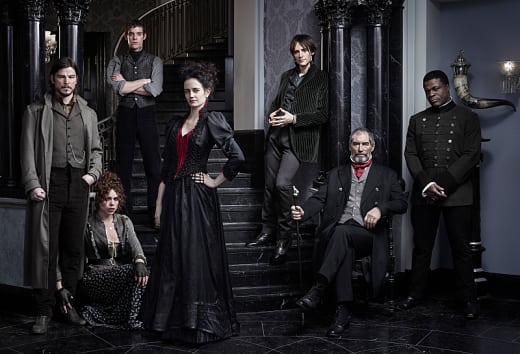 For instance, I knew the moment I saw the preview for The Walking Dead that I would love the series. Why? Because it made me cry as well as scared me.
This show did the same thing, something that I wasn't expecting at all. I knew it would be creepy. I knew that it would frightening and gross. I also knew that it would bring old horror stories to a new light.
I didn't realize that it would tug at my heart strings.
Sir Malcolm: You have the soul of a poet, sir.
Dr. Frankenstein: And the bank account to match.
The final moments of the episode, with Frankenstein's creature tentatively reaching his hand to touch his creator's face, were beautiful. As was Frankenstein's speech to Malcolm about his work and the enthusiasm he gave to it.
Before my heart was snagged, I was already intrigued by how the show gave us a new introduction to stories and characters we already knew. It is unclear if the brutal murder of the woman and her daughter are indeed connected to Jack the Ripper, but I feel certain the truth will be another surprise.
Who the fuck are you people?

Ethan
Beyond the monsters, the story wove itself well and I am intrigued by the idea of this team of sorts banding together against evil. Between Malcolm, Vanessa, Frankenstein and Ethan, you've got quite the combination of personalities and it will be interesting to see how they all work together as the season progresses.
As many new ideas as we were given about these old characters and stories, this episode also posed many more questions.
Ethan: And what do you seek to escape?
Vanessa: Perhaps the same thing you do. We all have our curses, don't we?
Such as: Will they find Sir Malcolm's daughter? How is the killing of the woman and child connected? Who was Ethan watching from afar and why did he get so upset? What is up with Vanessa and why does she blame herself for what happened to Malcolm's daughter?
I can't wait to find out all the answers to those questions and many more, I'm sure.
My favorite bits:
Screaming like a little girl when the woman was snatched through the wall. Always fun when a show can get me to do that.
Finding the whispering, and the spider, delightfully freaky.
Ethan getting a smile, however small it was, out of Vanessa.
Vanessa following the wailing, even as the fight raged on around her.
The guy twisting around and doing whatever the heck it was he did.
The fact that my subtitles kept describing them walking through the room with "footsteps squelch through entrails." Hey, thanks for that subtitles. I wasn't nearly grossed out enough already.
Another jump at the thing that came out of all the bodies.
Ethan finally asking the question he'd probably wanted to ask for a long time. Who the fuck are they, indeed?
The photographer balking at taking pictures of the bodies due to the lack of dignity.
Vanessa getting Ethan to let the cards work on him until he picked "The Lovers." Interesting.
Mr. Lyle's hair. That is all.
Vanessa pointing out that Lyle's beetles weren't all that exotic, coming from Suffolk.
Frankenstein's soulful speech about his research. It was really beautiful.
Frankenstein turning around to find his "monster" missing. Oops.
The creature smiling when he heard Frankenstein's voice.
What did you think of the premiere of Penny Dreadful?