The countdown to the now series finale began with Revolution Season 2 Episode 21. 
And it ended in much the same way Revolution Season 2 started: at the heart of Willoughby.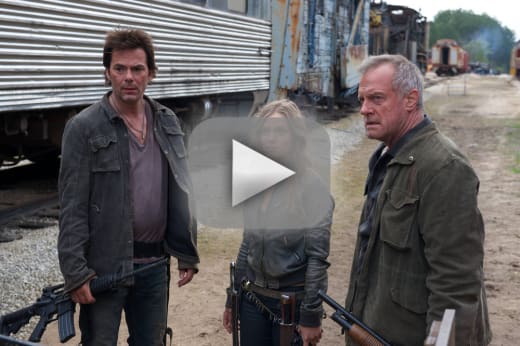 I'm quite the sucker for trains - Thomas the Tank Engine was my jam during my childhood - so to say I'm slightly disappointed there wasn't as much train fun and mayhem as I would have hoped for is an understatement.
Nonetheless, the scenes that took place on the train were ridiculously fun. Charlie and Miles bonding over hijacking the train, and their celebration when they rid it of Patriots, was the first real chance they have to bond since Miles' confession.
The scene was very much father-daughter in tone, but it wasn't the last time he did so in the installment. 
Miles stepped between Tom and Charlie over Jason's death. It was symbolic of Miles' actions and decisions in the basement, furthering his new relationship with Charlie.
He's willing to take a bullet for her. Miles has always has a certain affection for Charlie, but it's only grown deeper as their bonds matured. The act was more selfless in nature since Miles isn't forcing a stand off in the situation. 
Naturally, the mustard gas filled-tanker car had actually been emptied, throwing both Miles and Monroe's plans off course and forcing them to work again to further their own respective goals.
Tom and Connor chatting about whatever it is that keeps Miles and Monroe so connected was a moment of levity in an otherwise severely dejected and depressed Tom. It's unfortunate that Revolution is now cancelled, considering how much I wish we can see Tom take a train loaded to mustard gas directly to The Patriots. 
Rachel finding Aaron and the nano in the middle of nowhere rocking out to "We Built This City" was yet another unwanted development in the nano storyline.
The nano have been busy conducting experiments to figure out how to best change the human experience. Rachel fighting back and giving the nano hell was the only worthwhile development in the entire premise. At this point, Priscilla would be acceptable collateral damage so long as she can guarantee that nano will never come back. 
Finally, the Patriots one final plan to complete their manifest destiny is coming into place. By simulating a terrorist attack from California on Texas using the mustard gas ,they can final begin sweeping across the continent against their weakened foes.
For as much flack as I give The Patriots on almost episodic basis, this plan is genius, and all it took was a little begging. 
Will The Patriots be successful with the mustard gas?