Scott Porter Previews Hart of Dixie Finale, A "Journey" for George and Lavon
Leigh Raines at .
Fresh off the news of Hart of Dixie's renewal, I had a chance to speak with the show's resident lawyer, George Tucker, played by TV Fanatic favorite Scott Porter. 
In excerpts from our exclusive interview below, the actor chatted about all things "Zorge," Tansy, Lemon, George's new bromance and what we can expect in general going forward in Bluebell...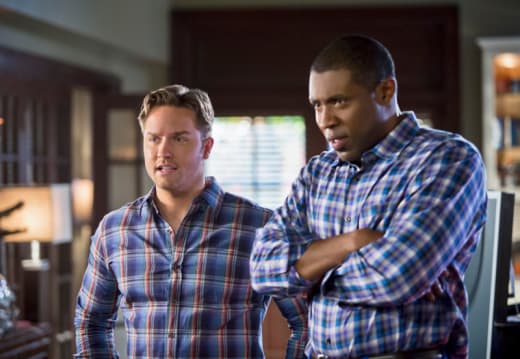 First and foremost, I had to congratulate Porter on that renewal. Hart of Dixie wasn't one of the first green lit by The CW and it certainly strays from what's become the channel's status quo genre.
But the series brings a certain lightness and happiness to the channel, a point on which Porter agreed.
"Hart of Dixie is kind of the last bastion of what the CW/WB used to be. There doesn't seem to be many shows [across the networks] that are that hour long romantic comedy anymore."
So... what about Zorge? There seemed to be a defining moment in Hart of Dixie Season 3 Episode 20 where the writers wanted to let us know that Zoe and George as a couple wasn't happening. 
"That's what it was meant to do. That spark we had at the beginning of Hart of Dixie Season 1 between those 2 had faded," Porter said. "Somewhere along the way, other storylines took precedence."
Is there anything more coming up between George and Lemon?
"It's interesting, for me as an actor, looking at the situation, I definitely want Lemon to fight for George. I would really love to see him as the one being chased. There's still some very strong attraction there."
As for Tansy?
"It was a little bit heartbreaking for me this season because we lost Mircea due to work. That's just the nature of the beast."
Anything you can preview for us about the finale?
"I think one of the questions about George is: does he really know what he wants? In the season finale, he and Lavon kind of go on a journey together. They're both kind of lost at sea and they're trying to find their compass. The writers made a point of rebuilding the George and Lavon friendship."
It sounds to us that George Tucker will be closing out Hart of Dixie Season 3 with a bromance instead of a romance. Look for Don Todd to play a role in it all too!
Don't forget you can watch Hart of Dixie online to catch up at anytime before tonight's finale! Enjoy!