Supernatural Season 10 Scoop: Mark Sheppard Upped to Series Regular
Jim Halterman at .
This can't bode well for Dean Winchester...
... but it makes sense following the shocking cliffhanger that concluded Supernatural Season 9:
Our beloved Dean is now a demon (or at least has the eyes of one at this point), so the King of Hell himself must be playing a key role this fall, right?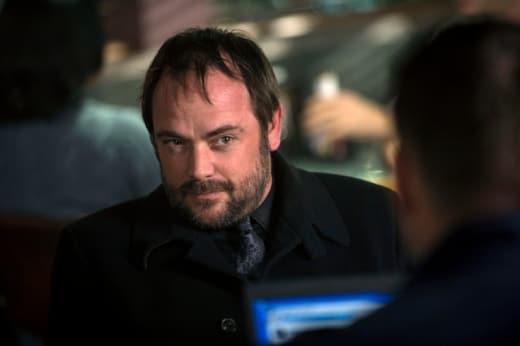 The CW has confirmed that Mark Sheppard will be a series regular on Supernatural Season 10, joining Misha Collins in that capacity, as the network also announced this month that Castiel will return to a full-time role next year.
No word yet on just how many episodes will include Crowley, but it's safe to say he'll be around a quite often to make life miserable for our demon hunters.
TV Fanatic spoke to Supernatural stars Jensen Ackles, Jared Padalecki and Collins prior to the finale and, true to form, they did tease the finale as a big game changer.
But now that we've actually seen the season in question... what will Sam do when he finds out his brother is entrenched in Crowley's ranks? Will Dean be aware of what is happening to him? Can Castiel do anything to help?
So many questions. So many months to ponder the answers.
Supernatural returns for season 10 this fall on The CW. 
Jim Halterman is the West Coast Editor of TV Fanatic and the owner of JimHalterman.com. Follow him on Twitter.