The Bachelorette Review: It's Raining Men
Miranda Wicker at . Updated at .
After last week's opening night cocktail party on The Bachelorette, Andi Dorfman's men are ready to put their game faces on and woo the "woman of their dreams."
Tonight on The Bachelorette Season 10 Episode 2, Andi will take solo dates with two men, as well as a group outing where these guys will strip down to their skin as part of the competition to win Andi's love while raising money for charity. Hey, if it was good enough for her, right?
Want to skip straight to the good parts? The Bachelorette spoilers have you covered. Otherwise, pour a glass of Pinot Grigio and get ready to watch The Bachelorette, TV Fanatic style!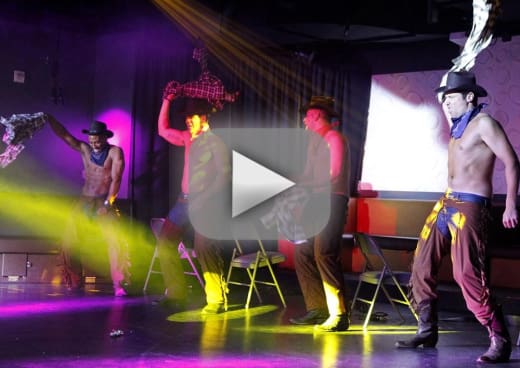 Eric Hill earns the first one-on-one date with Andi, and after a quick stop at the beach, they head to Big Bear for a little skowboarding. Eric's an adventurer, professionally. Andi?
Well, sports aren't really her thing. 
But she hangs in there and picks it up quickly(ish) while Eric looks great being great at everything. Plus 10.
It wouldn't be a date in the snow without hot cocoa, so Andi busts out the Thermos and porcelain mugs (???) and then they go tandem sledding. 
Andi thinks this could be the start of "an incredible love story." 
They head to dinner at a cabin in Big Bear Lake and chill beside the fire. I resist the urge to sing "Winter Wonderland." 
Eric can't play piano, but he can sing. He can't ski. And those are the only two things he can name that he isn't good at. 
The mood gets serious when Eric tells her his story about traveling to Syria and recounting the scariest event of his life for her. And it's pretty scary. He went as a journalist and was mistaken for a spy. In a war zone.
Then Andi turns it back around on him and asks if he'd give up his quest for world travel for a family. He says "yes." The biggest goal is to have a family. Plus 8. 
It's kind of sad to watch this knowing Eric's outcome. 
They make S'mores. Plus 15.
The first group date of the season is upon us and Andi's taking 14 guys to a male revue. Craig says "I hope she loves me! I love her!" Minus 22.
They have just walked into the real life Magic Mike. Not even sure this is safe for primetime. I am definitely okay with this.
Nick S. and Marcus get solo acts in the strip show in front of the audience while the remaining guys are divided into Firemen, Cowboys, and Army men. 
Carl is an actual firefighter. He's getting some sort of unfair advantage here. Insider training? 
Craig is a little larger than life and has a man crush on Josh but it makes sense because Josh is hot. These guys might be having too much fun practicing for this. Especially Cody who kind of skeeves me out a little. 
Craig decides to stuff his Speedo to impress Andi. Minus 12. Sharleen from last season join her for the strip show.
Craig can't get his boots off while Marquel is shaking what his Mama gave him. Sharleen is incredibly embarrassed to be in the audience of this show and Nick S. shows his ENTIRE WORLD to the audience after stripping out of his robot costume. 
Dylan backs it up on Chris Harrison and gets a Plus 25. 
Marcus zones in on Andi when he hits the stage and loses all of his inhibitions. Plus 10.
They raised money for charity and fun was had by all. Plus Sharleen was mortified. Now it's time for the rest of the group date where the previews indicate things are about to get a little cray cray.
Craig toasts to Andi before Brian steals her away for the first bit of time alone. He's not afraid to take a chance and be the first guy to make a move. 
When he goes back to Pennsylvania, he has to face his students who will have just seen him dance in a Speedo on national television. That's gonna be awkward. 
Andi's impressed, though. Plus 6.
Josh Murray gets some time alone with Andi next and wants her to know he's not just a stereotypical athlete. This hottie hasn't dated in about 5 years, which is CRAZY. 
While he's convincing Andi he's shy, Craig is getting hammered. Totally. Sloshed. And making fun of Nick S. in his robot costume. Minus 25.
Unlike Sharleen who was embarrassed to sing opera for Juan Pablo, Bradley isn't afraid to sing for Andi at all. Until Craig crashes his time with her and steals her away. 
When Andi tells Craig she can ask him whatever he wants, he asks what the worst thing about her parents is. She returns him to the guys and then he keeps drinking and crashing her solo times with the other guys. Minus 12.
Then he decides to go swimming. In his clothes. Minus 18. He's embarrassing himself and drawing Andi's attention away from the other guys who are there to spend time with her. 
He got so drunk the producers had to escort him back to their regular house. Andi drops the "for all the right reasons" line. Craig isn't there for all the right reasons, but Andi issues a missive to the other guys that behavior like that won't be tolerated. Plus 7, Andi!
Marcus pulls her away from the guys and changes her mood. Then she gives the group date rose to him for being a good sport during his solo striptease.
Farmer Chris has the second one on one date with Andi this week. They're heading off to the races in Santa Anita. Horce races, that is. 
He thinks Andi is one of the "most beautiful, amazing women that exists." She's his "Dream girl" and he's "in this for the long haul." We'll overlook his overwrought lines because he looks cute in a bowtie. Plus 2
Andi picks a winner, both a horse and Chris, it seems. Then an old couple, who've been together 55 years, ask them how long they've been together. Because that wasn't a pre-arranged meeting AT ALL.
Chris is "here for the right reasons." Clearly he watched Desiree Hartsock's season.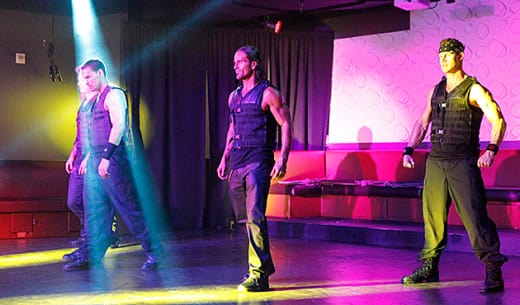 Farmer Chris was engaged to his college sweetheart but they realized that they weren't meant to be together and broke it off. He says he proposed to her because he thought he was supposed to and not because he felt like he should. Plus 2 for honesty.
He tells Andi she was the one he was hoping for, which is so, so weird because DIDN'T THEY JUST MEET? She gives him a date rose telling him that it means a lot for her to give a rose to someone. 
Oh look, a private concert just for the two of them with This Wild Life. And first kiss of the season goes to Farmer Chris. Plus 10.
As the men all head into the cocktail party and rose ceremony, one of the guys tells two of the other guys that there's a lot riding on tonight like they don't already understand what's happening. Plus 8.
Nick V. hands Andi his very own date card and then pops a bottle of champagne to share with her. They're both looking for a "perfect" connection. 
Marquel snags her next since he didn't get time with her during the group date. He's rocking some insane pattern mixing but somehow it works for him. Plaid, stripes, and whatever's happening on that tie. 
Pantsapreneur makes her laugh and Josh pours on the charm and rambles uncontrollably. He has butterflies and gets the second kiss of the season. Plus 8.
Craig is still weird. 
To do something "more than just apologize" he writes a song and sings it horribly. It makes her laugh, though, which is good. It probably wasn't enough to get him a rose because he's weird.
Super weird.
And now it's time for the Rose Ceremony. Was Craig's serenade enough to save him? Let's find out!
Receiving a rose tonight and joining Eric, Marcus, and Chris for another week are:
Ron
Dylan
J.J.
Marquel
Andrew
Tasos
Josh
Cody
Nick V.
Patrick
Brian
Brett
Bradley
It's curtains for Craig, Nick S., and Carl the firefighter.
Carl doesn't know where it went wrong and actually looks like he's crying as he gives his final interview. Poor guy. Nick S. calls the elimination tough and shocking and doesn't want to break down on television. 
Craig is disappointed, but the only person he has to be disappointed in is himself. He screwed up big time. Peace out, Craig.
EPISODE TOTAL: 22 SEASON TOTAL: 50
What did you think of The Bachelorette Season 10 Episode 2? Did Craig deserve a rose tonight?
Miranda Wicker is a Staff Writer for TV Fanatic. Follow her on Twitter.