Some people are willing to sacrifice everything. For the greater good. For love. But I wasn't feeling much of either on The Mentalist Season 6 Episode 21. 
The organ trafficking business turned everyone's stomach, yet I appreciated that Jane took the time to really look at the victims and see just how cold blooded these murders were.
Those women were nothing more than merchandise, with the valuable properties ripped from their bodies and the rest left behind to rot.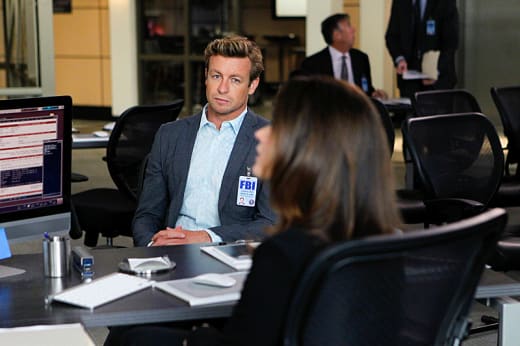 I was particularly struck by Alexander Lark. The former doctor truly looked like a man who had lost his soul. He'd been quietly killing and butchering women for six years for nothing more than a paycheck. It's horrifying to imagine just how many women had been murdered and how many more were sent off to the slave trade overseas.
The conversation between Ridley and Jane was chilling as Ridley told him in this The Mentalist quote…
Perhaps the lives of these women were taken so that the lives of important men could be spared.

Ridley
Talk about a misogynist. Perhaps it was even more frightening that he seemed to believe that Jane would understand his point of view.
I've worked with psychopaths and monsters for years so I do understand your perspective, very well.

Jane
When Jane and Lisbon put on their surgical theater, I knew the moment the body began to move that it was Wiley. I'm sure he loved being a part of the con but thankfully Abbott never even thought to ask him about it. 
Unfortunately, I knew from that scene forward what Lisbon's decision about D.C. was going to be. Abbott is right. Jane is a liar and Teresa Lisbon is basically an honest person. She's not comfortable being a part of Jane's cons no matter how good the cause. I'm afraid the whole thing sent her running for safer ground. 
But is Pike really safer? I was wondering when he'd start to push and that happened at the beginning of the episode. Marcus pointed out how patient he's been with her and not only arranged for a job but was sure to tell Teresa that he'd gone out on a limb to do it. Not that he didn't make valid points, but none of it gave me the warm fuzzies about their future.
On the flip side, I wanted to hug Cho when he shared his feelings with Teresa about the first day they worked together. 
I wouldn't be where I am today if it weren't for you. Whatever decision you make, it's been an honor.

Cho
However I do wish he would have encouraged her to stay, but that's just not in Cho's nature.
I wasn't shocked when Teresa made the decision to move to D.C. but Marcus' proposal was a bold move and it just might backfire. What some might see as impulsively romantic another could view as pushy and controlling. Whenever Teresa says yes to something, Marcus seems to ask for more.
In the end, Teresa looked like a woman who was shocked and confused, not one who wanted to say, yes I will marry you and fly into his arms. And when it came time to tell Jane about the big move, she just couldn't do it. 
So, what do you think, TV Fanatics, will Teresa really move to D.C. with Marcus Pike?
C. Orlando is a TV Fanatic Staff Writer. Follow her on Twitter.