The Originals Round Table: "The Battle of New Orleans"
Miranda Wicker at .
With a new line of werewolves loose in New Orleans, a weakened Klaus, an angry Elijah and Hayley in labor, to say that everything is getting insane on The Originals is a bit of an understatement. Because yeah, insane.
That's what's happening. 
We're one episode away from The Originals Season 1 finale! But first, here's another edition of the TV Fanatic Round Table! Below, Leigh Raines and Miranda Wicker are joined by Heather Vee of Vampire-diaries.net. And you're joining us in the comments, right? Right.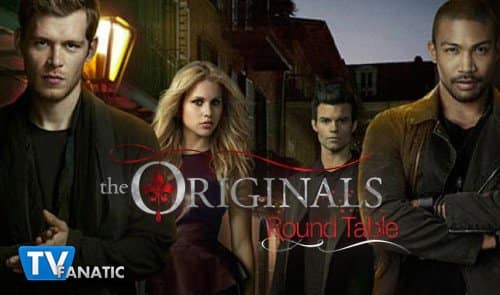 What was your favorite quote or scene from The Originals Season 1 Episode 21?
Leigh: Seriously I think Elijah's entire cool demeanor when the fight was kicking off was just perfection. It's like I'm going to fight and kill a huge amount of vampires and not even rip my bespoke suit.
Miranda: I LOVED IT ALL, especially Elijah and Hayley and, well, just Elijah in general. But extra special super love feelings goes to Klaus' "warning" to Elijah and Jackson to stay away from that general vicinity of the loft. I definitely chuckled at that.
Heather: "Gentlemen...shall we?" Good god, Elijah Mikaelson. But I loved the Francesca reveal. 
Were you shocked to learn that Francesca is a werewolf?
Leigh: Yes! I was wondering what her secret was. I really just thought she was mafia. Now it's making a little more sense to me why she's been so aggressive about the key and trying to align herself with people.
Miranda: I was totally shocked by that reveal, but then it totally made sense why she'd brought her brothers with her, why she was so interested in the key, all of it. 
Heather: Yes, in the very best way. The minute that reveal happened, the pieces all slid into place, and now everything is even more uncertain than before. Just a fantastic twist, all the way around. 
How are you feeling about the introduction of a third werewolf line in New Orleans?
Leigh: I think it's going to make things interesting. There's only so far you can take the vampire issues between Klaus and Marcel. Engage all of the supernaturals. It'll be more interesting.
Miranda: It's not that I don't love it, but I don't love it right now. I feel like the reveal would've been better coming in next week's finale as the set-up for The Originals Season 2's first arc. Now it's just feeling like a giant loose end instead of a cliffhanger.
Heather: I am all for complications and I am desperate to learn more about the werewolves in general. Mix in politics and new agendas and I am full on board.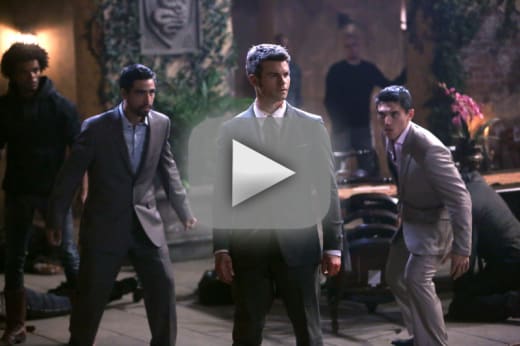 Do you think Davina should resurrect Mikael? (Do you want that to happen?)
Leigh: Ugh no. This is the same problem on TVD: when people die they never stay dead. There's no shock value or change when they go to The Other Side. I was also never a fan of Mikael when he was on the show. Also Mikael Mikaelson is just the dumbest name ever.
Miranda: I'm so, so conflicted on this. On the one hand, Sebastian Roche plays a bad ass Mikael, the scariest villain either series has ever seen. On the other hand, it feels a little been there, done that. They can't possibly redeem him. And probably not even kill him. But he'd bring so much conflict to the series. 
Heather: I'm going to have to disagree with Leigh - I've always maintained that Mikael was killed off much too early on The Vampire Diaries, and  he's a legitimately horrifying threat. 
Hotter Haylijah moment: Last week's or this week's?
Leigh: Last week's was a little unexpected so I vote for that. About damn time!
Miranda: Yes? That's an answer, right? Because yes. I choose both.
Heather: Agreed. Last week was hot in that finally way, but Elijah's "You always have a choice" was hot in its own way.
Since she's about to make an appearance, name the Magical Miracle Mikaelson baby.
Leigh: Hmm we should pay homage to some of the past people. Perhaps Esther? I'd say Katerina but Klaus would sooner kill his own baby for Genevieve before naming it for Katherine so...I'd like to see a nod to Hayley's heritage too.
Miranda: As long as it isn't Esther, I'm good. 
Heather: I'm kind of obsessed with Hayley's birth name, Andrea Labonair, so I vote for reclaiming Andrea. 
Miranda Wicker is a Staff Writer for TV Fanatic. Follow her on Twitter.