Where's Muirfield when you need them?
On Beauty and the Beast Season 2 Episode 18, the stage was pretty much set for what's going to happen in the future. Instead of Vincent hiding underground for fear of being tracked by Muirfield, he's now going to be underground hiding from Gabe.
It was a dead giveaway when they showed Gabe saying "I won't let him hurt you" in the "previously on" portion of the show. He fessed up that he called SWAT. Duh. I've never wished Muirfield was back in the story more than right now.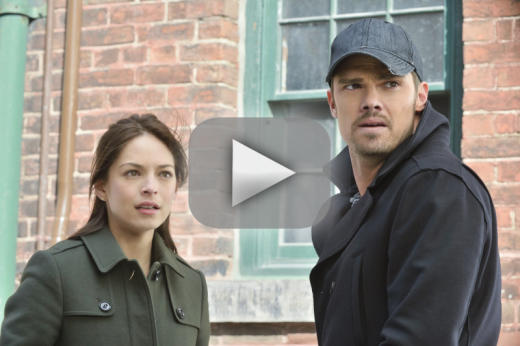 Gabe is a pain in the ass. He's not a good villain and there are several reasons why he just doesn't work as one.
1) Gabe is THE WORST at tracking down criminals. If he doesn't have detectives flanking Cat's apartment and her rooftop, then he's an idiot. Since we saw Vincent and Cat together on her roof and Gabe's stormtroopers didn't come flying in, we can make the assumption that he is, indeed, an idiot.
2) Since Gabe was a beast, going around calling Vincent a criminal when he did many horrific things himself to set up Vincent in the past to try to steal his blood for his own cure, he's not just an idiot, but a hypocrite. It's very hard to get behind a big bad who can't even get his stories straight.
3) Pining for Catherine is such a losing proposition that it's laughable. 
4) Vincent, Cat, Tess and JT should be able to come up with some evidence on Gabe showing what he did in the past to get him kicked out of the DA's office. It's early in the game, so I'm going to hope that's their next move.
5) Gabe's own cops are working against him. 
6) It's not realistic to believe that the FBI would get an exoneration prepared for Vincent that could then be overridden by a lowly DA with a horrible track record. If we can't believe he has any power in the situation, then he's just not believable, period.
Gabe really needs to go and I'm thinking back to Reynolds chat with Cat that Muirfield was a worldwide operation and the odds they're completely dead are pretty low. Please please please bring back an awesome bad guy (or corporation) to make Vincent's hiding worth it.
That said, our foursome is working together seamlessly. Dana Landon is giving out their names as individuals who can help on covert operations when nobody else (more specifically, when proper channels) cannot. That will make things fun. 
Gabe's windy threats about destroying Vincent are useless. He'll never have Cat now, nor her trust and now he's left knowing that she's in love and meeting her lover when Gabe can't see. The people he used to call on when he needed the hardest work done (Tess and JT) have picked sides, and it's not with Gabe.
In what delusional world did he think anyone would choose his side? Talk about out of the loop.
Vincent was feeling a little out of it since things aren't working out as he hoped, but he need not worry.
Vincent: I don't know. I can't believe we're like back where we started. Me hiding in shadows, you hiding me.
Cat: At least it's romantic. Stolen moments, secret love.
Vincent: Still, it's no future and I think we deserve a future.
Cat: We'll have one, I promise. Together.
That's the Cat and Vincent we know. Stolen, extraordinarily romantic moments making every second they're together count. My wish is that Gabe gets worked up enough to become a beast again in his attempt to triumph over Vincent, that the FBI is let in on Vincent's secret and that Gabe winds up in the hell hole.
It would even be alright for the FBI to keep what they know of Vincent under wraps so secret rendevous are still necessary for our romantic heroes. Those always make the best movies and romance novels, right?
It would be super cool if Muirfield came back into the picture and the FBI would work with Cat and Vincent to try to bring them down, albeit clandestinely. Once it comes up above ground (figuratively speaking), we risk losing the magic. 
Build a fierce team of people willing to go out of their way to work with the capable beast and his beauty, force Gabe out of the picture and try to bring down a re-emerging Muirfield. That's my wish. What's yours?
Now we only have four episodes left until 2015! Be sure to watch Beauty and the Beast online via TV Fanatic and be here for all the latest news. Hit the comments with your wish list to keep the pressure on our couple, allowing them to flourish romantically while continuing to investigate interesting cases.
Which big bad do you wish was looming in the future?
Carissa Pavlica is the managing editor and a staff writer for TV Fanatic. Follow her on Twitter.