There was plenty of wedding planning, but fans would be left waiting for the big event after this season of Castle. Although the end was disappointing, there were many highlights to look back on.
It's time to give our grade for Castle Season 6, TV Fanatic Report Card Style...
--------------------------------------------------
Best Dramatic Episode: "Veritas"  There were many runners up ("In the Belly of the Beast," "Under Fire") but Castle Season 6 Episode 22 ranked as our #1 episode for the season. Kate Beckett finally got justice for her mother's murder and Castle was by her side. We felt almost as proud as Castle himself when Kate told him she couldn't have done it without him. 
Most Fun Episode: "That '70s Show"  The cars, the costumes, the groovy dialogue. We couldn't get enough of Castle Season 6 Episode 20. Martha was in her element,  we barely recognized Ryan in all his '70s glory and Castle and Beckett did a little disco at the end. This episode was pure fun from beginning to end.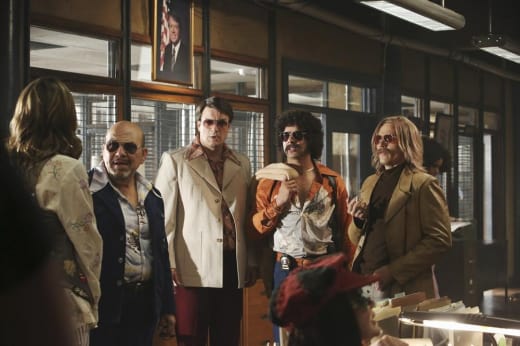 Worst Episode: "For Better or Worse" We understand what they were trying to do with Castle Season 6 Episode 23. It just didn't work. Kate Beckett's teenaged marriage in Vegas was suppose to be a farce but there were far too many plot holes to hold the humor.
Plus, it poked fun at Beckett being a "one and done" kind of a girl, a premise that fans have held dear since Castle season 1. Add in the interrupted wedding and the cliche of the burning car in the ditch and we certainly weren't smiling. 
Most Annoying Character:  Pi. Nothing annoyed us more than Pi this season. We're ever so grateful that Alexis finally came to her senses and broke things off with her bee loving, fruit eating boyfriend. 
Most Underused Character:  Dr. Lanie Parish. We've said it before and we'll say it again. We want a Lanie-centric episode. After six seasons we should know far more about our favorite ME.
Biggest Shock:  It wasn't Bracken's arrest or the burning car. It was seeing Kate in that first wedding gown back in "Dressed to Kill." The poofy skirt alone left us dazed and confused for days afterwards. We were never so happy to see an expensive garment get ruined.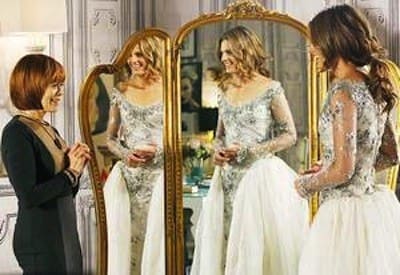 Hopes for Castle Season 7:
A wedding. We don't need 300 guests but we want it to be special, with friends and family and lots of small, important moments between all of our favorite characters. 

More romance. We always crave those quiet, intimate, moments between Rick and Kate.

Bring the

two-parter

back. Yes we know the season 6 premiere was a

two-parter

but it didn't have the punch of the ones we've seen mid-season.
Despite the utter disappointment in season finale, there was a lot to like about Castle Season 6.
Our grade for Castle Season 6 = A-
What's your grade for Castle Season 6?
C. Orlando is a TV Fanatic Staff Writer. Follow her on Twitter.