Sometimes you are having such a great day that you think something will come along and ruin it.
For April, that something is leukemia.
On Chasing Life Season 1 Episode 1, we meet her as she's trying to get ahead in her job as a floater at a local paper by scoring a big interview with a local athlete just out of rehab. He's a good guy, helping with a blood drive at her uncle's hospital.
April hasn't talked to her uncle since her father died. He never showed up to the funeral. This day, however, he comes through for his niece; in more ways than one.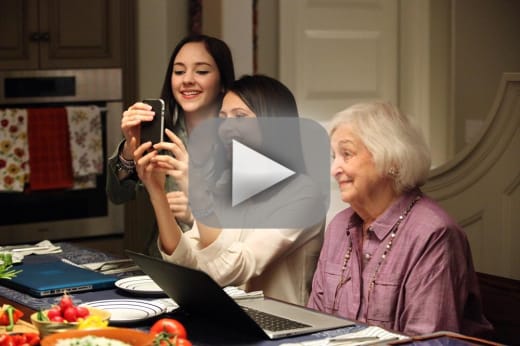 April is a go-getter. She's ambitious, witty and everyone seems to love her. Even the guy at work she's had her eye on has had his on her, but she's not conceited enough to notice. She's someone I'd want to hang around with.
Her desire to get an exclusive interview puts her on a collision course with destiny. The athlete (who is mighty hot) gets angry that a reporter found her way into a reporter-banned blood drive, and as April gets up, she faints due to her aversion for blood. Her uncle tests her blood and discovers she has leukemia. 
While he's trying to track her down and she's ignoring his calls, April is having a great day. Dominic from work asks if she wants to go out to review a concert. He's fibbing -- he just wants to get to know her. She landed an interview even the most seasoned reporter couldn't muster.
Then she finds out about her leukemia. Honestly, she's not nearly as spooked by the possibility as I would be if my uncle showed up at my front door with the news. She's far more concerned with how her family will take it than what it really means to her future.
She does a little bit of digging into the likelihood of dropping dead of leukemia and a lot of digging into how to tell your loved ones you have cancer. She's clearly more worried about others than herself. Her sister needs her, her mother says she can't live without her and when she visits her dad's grave on his birthday, she tells him she hopes it's a long time before she sees him again.
There's a lot to like about Chasing Life. April is adorable. She's snarky and fun without being grating. She doesn't take her own life as seriously as she should, but once blood drips out of her nose into her cocktail, she starts to change her tune. Her willingness to go the extra mile earned her a promotion and once Dominic discovered she wasn't dating her uncle, he made his intentions about her clear. She could have everything she ever wanted if she can kick the cancer.
The drama between her family and the uncle is going to come down to something (my assumption only) that her father did to her family unbeknownst to them. George seems to truly care for April, so it's nothing the family did to turn him away. He must have known dad's secret.
When April walked away from her father's grave, another girl was taking flowers to her father's grave. It just so happened to be the same one April was visiting. Was April's dad leading a double life? Is that why George didn't want to be involved with him or his family? There's always more to the story than anyone knows.
I'm looking forward to getting to know April, her friends and family and to see her fight for the life she wants. No doubt she's going to keep her family in the dark for as long as possible because they all count on her. Will it be her uncle that she turns to, or perhaps a new sister she never knew she had? 
We'll be covering the show all season and if you miss any episodes, we'll give you the opportunity to watch Chasing Life online via TV Fanatic. 
What's the verdict on Chasing Life?
Carissa Pavlica is the managing editor and a staff writer for TV Fanatic. Follow her on Twitter.