Is Carver a synonym for crazy?
On Chasing Life Season 1 Episode 3 April, Brenna and Sara all go to great lengths to push away men they hope to reel in. They come from the same school of thought with regard to dating - and it's not the healthiest.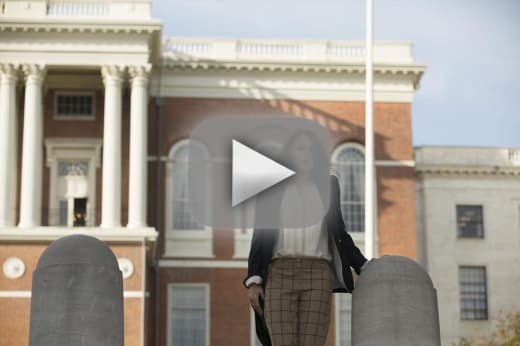 I'm fantastic at pushing men away to see if they'll rubber band their way back to me because they are just so into me, so I totally get where the Carver girls are coming from. However, they need a lot more Beths in their lives showing them the right way to go about catching a man. 
April quickly believes the office gossip she hears about Dominic being a player not necessarily because it's all true, but because it's the easiest way to be noncommittal and blame something other than herself for sabotaging her relationship. April is scared to death about what she's going through and having a new job and new man only intensifies the pressure.
Beth points out to April that the man she's describing doesn't sound like a player at all, but someone who really cares about her friend. To prove she's not afraid to take her own advice, she quits her job -- her crutch for not moving forward -- on the spot. 
When April does give Dominic a chance, it becomes clear to her she read the situation wrong and they have something special. Something special she can kill with her lies if she doesn't start sharing her truth with him. 
Meeting the Carrot Dude was enlightening for April and gave her the push she needed to seek some help. The installment closes out with her in a cancer support group -- one that Leo Hendrie is attending. Will it be the realities of cancer or the impending threat of a close friendship between Leo and April that kills what she has with Dominic? Can she deal with everything and have different types of relationships as she goes through this crisis? I guess we'll find out.
Sara discovering her patient was the soon-to-be ex of Ben, the fellow she met online, threw her into a panic. Emma told her to pick one or the other because she couldn't really do both. At a big family dinner, Brenna tries to sabotage her mom's chances and Sara does her own kick ass job of killing any hope of a future with Ben.
Hoping she's made things right enough with Ben to continue seeing him, Sara tells her patient she won't have the time necessary for her case. Until she learns Ben spent the night with his ex. Sara made such a great impression she sent him back into the arms of his wife! Ouch, right?!
Brenna has also been unclear about her intentions or expectations of Kieran. Kieran is such a great guy; a real dreamboat. He's sweet and caring and the kind of guy who would support his mother if she was putting herself into the dating world for the first time in years, even if he might not agree 100% with what she's doing. 
Brenna used him to put a wedge between Sara and Ben and Kieran didn't like it at all. I have a difficult time with Brenna. Honestly, I don't know what Kieran sees in her, because he really cares for her. She is a bit undeserving of such feelings at this point. She is far too preoccupied with external forces. Giving Kieran her father's last novel was a nice touch. Maybe she can turn things around.
I'm still not sold on Chasing Life. My favorite characters are the supporting players. Beth, Dominic and Kieran show much more emotional stability and personality than the Carver women around whom the story centers. Although April comes close to realizing that she's lying to those she loves by not telling them about her cancer, she doesn't quite understand it's not really not telling them that's hurting things, but that she uses what she's not telling them to form her decisions.
If she was truly separating her cancer from her personal life until she had a handle on it, she'd be carrying on as normal. She's not. Granted, it wouldn't be a stellar way to go about things either, but at least she'd be true to herself in one area of her life, because it's pretty clear it's eating her up to be leading a double one. The longer she puts off sharing the news, the worse it will be on all fronts. 
What are your feelings on the characters and their development so far? Are you enjoying Chasing Life, its direction and premise? Let me know. If you missed any of it, you can watch Chasing Life online via TV Fanatic to catch up.
Do you think Leo will be a romantic interest for April?
Carissa Pavlica is the managing editor and a staff writer for TV Fanatic. She's a member of the Broadcast Television Journalists Association (BTJA), enjoys mentoring writers, wine, and passionately discussing the nuances of television. Follow her on Twitter and email her here at TV Fanatic.