Covert Affairs Premiere Review: Keeping Secrets

Carla Day at . Updated at .
Surprise surprise! 
After killing Henry, Annie headed out of Hong Kong by boat with a contemplative look on her face.
Instead of rushing back to the States, she hid out and escaped the agency's watchers. She remained underground for four months before she decided to return and re-emerged in Washington D.C on Covert Affairs Season 5 Episode 1.
The ease of Annie's return into the CIA fold was astonishing. She underwent a polygraph and passed beat it. It was like she never faked her death, went dark or killed Henry Wilcox. I'm guessing since Calder was in on it, she was in the clear for her actions. She definitely was lying about her four month absence, but the polygraph doesn't lie, right?
At least, Calder and Auggie questioned Annie, but they too let her get away with her answers. They were glad to have her back and when Khalid Ansari showed in the US, they needed her help. In Covert Affairs Season 3 Episode 16, Annie turned Khalid against his father and let him go instead of killing him. If anyone understood the man, it was Annie.
When she came face-to-face with Khalid, she proved she hadn't lost her touch as an agent. She was getting through to him, but Charlie had Khalid shot instead. That was a big mistake. He could have been the key to understanding exactly what was going on. It may have appeared that he was involved in the terrorist plot, but I don't think he was.
Khalid: You don't know? Then I'm an even bigger fool. You think you're in control. If these people can do this to me, what chance do you think you have?
For her first case back, Annie followed the evidence trail that presented itself,  found the terrorists and nearly stopped an attack. The problem was the CIA fell for the trap that was set. There's a mastermind at work who knew the CIA procedures and left the bread crumbs which led them to Mykola Alton.
Mykola was taken into custody just like the terrorists wanted. He was the bomb. As soon as he walked into the secret CIA location, it was game over. Twelve CIA employees were killed when the facility exploded, while Annie was lucky that she spotted Oksana or she'd be dead too.
The season premiere was a well-paced introductory episode which effectively brought Annie back, while launching a new mystery and case. We didn't see much of the new character, Ryan McQuaid, yet he was well defined in his few short scenes. He's a former Navy SEAL who now runs a billion dollar private intelligence contractor firm and flies himself wherever he wants to go.
The initial meeting between Annie and McQuaid was sizzling hot. She stood her ground and he appreciated her candor. Given McQuaid's connection to Boz Alton, he's not going to stand by quietly and let the CIA handle the situation. I'm looking forward to seeing Annie and Ryan work together, whether it's acrimonious or not. 
I'm equally excited to see Arthur find his place in the industry again. It wouldn't have felt realistic for him to return to the CIA or any government job after all that happened, but he's well-qualified to go work with McQuaid. Arthur will make more money for his new expanded family, plus it will set up a challenging professional relationship with Joan.
If anything was lacking in the premiere, it was quality bonding between Annie and Auggie. With everything going on, I'm glad they are keeping their relationship platonic at least for now. She may trust him, but not implicitly. Whatever she's hiding, it's related to the attack she had in the alley.
What's wrong with her? And what was the shot she took?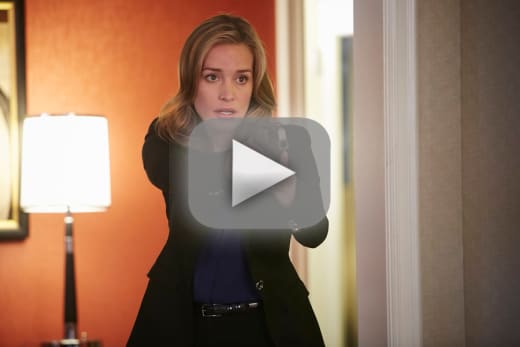 Without anything to go on, her attack appeared to be heart related, but the shot looked like an Auvi-Q EpiPen, which is for allergic reactions. Whatever is wrong with her health, it's serious enough that she couldn't tell Auggie without putting him in a bad position and risking her job.
Despite her silence, they have a bond that's withstanding her lies at least for now.
Annie: There's nothing to say. You can trust me.
Auggie: I do trust you.
Annie: Then let's get to work.
Annie has a tough assignment ahead of her to track down Boz Alton and uncover the truth about who's behind the attack on the Chicago Office and uncovering their greater plan. The best lead may be to track down how Khalid Ansari ended up in the United States. He was the first bread crumb dropped and it was a big one.
Are you disappointed Annie and Auggie didn't get back together romantically?
Carla Day is a staff writer for TV Fanatic. Follow her on Twitter and on Google+.