Days of Our Lives Dish: Eric Martsolf on Kristen's Return, A "Tragic Accident" Ahead & More
Jim Halterman at . Updated at . Comments
First time's the charm, right?
Eric Martsolf is no stranger to daytime TV after a long run on NBC's Passions (2002-2008) and his current role of Brady Black on Days of Our Lives, which he began in 2008.
But this was the first year he'd been nominated for a Daytime Emmy and, as you may know, he won that statue Sunday night.
This past year, Brady not only fell into a train wreck of a love affair with psycho Kristen DiMera (played by fellow Emmy winner Eileen Davidson), but he fell back into old habits involving cocaine that had him pushing away his loved ones. 
Are things going to get better for Brady? How will he handle the upcoming return of Kristen? And does Martsolf actually remember what happened when his name was called during Sunday's Daytime Emmy ceremony?  
I grabbed some time with Martsolf yesterday to ask all these questions and more...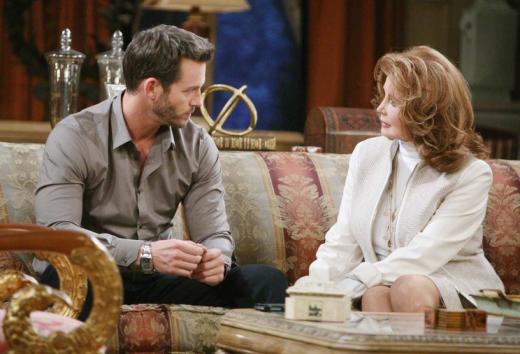 TV Fanatic: What was the episode that you sent in? Was it the one that the clip we saw during the show?
Eric Martsolf: That was the episode. I got it pretty fortunate in a sense. I got lucky because all of the other submissions in the supporting actor category were men with 'who's the daddy issues,' literally. That theme recurred in all of the other clips and I noticed that when I watched all of my…I have no shame, I went ahead and watched all the reels of my competitors and they were all very, very strong but they also had the same content.
All of a sudden you see four daddy issue stories and then all of a sudden fast forward to this crazy cokehead being intervened by his friends in the middle of his living room. Needless to say, it stood out a little bit. So I think that worked to my advantage a little bit.
TVF: I feel like between the alcohol and the drugs with Brady it's been going on really for several years. It's not a new thing for him that he's been dealing with these demons but I feel like it really took it to the next level this past year. Did you feel that?
EM: Yeah, that story definitely reached a climax. I mean, they brought it full-circle but I think what the writers did correctly, and I attribute Gary Tomlin's pen to this, is he took his time with it. So often in soaps, especially now, we're forced to push out storyline, resolve it and then create another storyline and resolve it so we can cater to viewers lack of attentiveness and their desire to want things to be wrapped up quickly.
They allowed Brady to show his addiction and to show him hiding his addiction from his friends and family. And they've really taken their time with it, which has allowed it to cultivate. And whenever you're given the time to cultivate something there's usually a wonderful payoff in the end.  And I said last night in my speech, I was given a gift last year. I was given a really tragic story line and I tried to take care of it the best way I could. And I think hard work has paid off in this instance, and I really did work hard.
My wife had looked at me all throughout 2013. I'd come home, she'd be like, are you tired? I'm like, I'm exhausted. I was just tired all year. And I finally put my finger on it, I had portrayed an addict for a long time and it's just a rough life. It's a rough thing to have and to deal with it because you're just fighting all the time. You're fighting urges and you're fighting your family, you're fighting friends. And Brady was just in a constant state of torment in 2013, but it makes for a good soap reel.
TVF: It wins you awards I hear.
EM: I guess so!
TVF: What did you learn out of the past year as an actor, as a person?
EM: The beautiful thing about being on soap operas is every day is a class. Every day you're in a different scenario, you're saying different lines, and most of the time you're with different actors. And in this past year, I kind of hit the lottery when they paired me up with Eileen Davidson, this veteran who definitely knows what she's doing. She's been around the block.  And she upped my game. She really brought out the best in me and we had a certain chemistry and connection that truly clicked.
And I don't think it was an accident that we both received Emmys last night. I think we both worked very well as a team together. We both kept our sense of humor about it, but we both took the material very seriously. But did I learn anything? Yes, always work with a very talented costar. That's what I learned.
TVF: That's a good thing. So now when you look back on last night, does it all seem kind of surreal or were you kind of in the moment?
EM: Oh, God, a blur is an understatement. I swear to God, I literally, two minutes before you called I finally got to watch my speech on the internet…but just now, I've got to say, Jim, right now at this moment is when I finally realized what's happened. I'm sitting here talking to you and I'm looking at my Emmy across the room sitting on the table. And it's very apparent now what happened. But last night was an absolute blur. I thought it was happening to somebody else.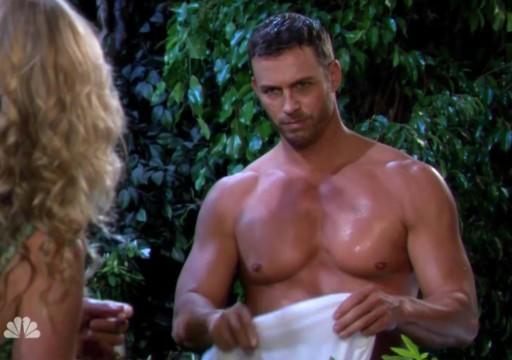 TVF: I saw on Twitter and from some reports that the Red Carpet was a little different this year, maybe it was a little rough for some people. Did you have a Red Carpet experience at all?
EM: I had a very strange pre-Emmy experience. My Emmy prep consisted of sitting out at my pool on a raft and just looking up at the sky for a couple hours and trying to make heads or tails of this whole situation and see whether I win or lose and finding some contentment and whether I win or lose, because it got really real yesterday.
But then when I went to get dressed I realized that I had misplaced my Emmy tickets. So I ran around in my underwear panicking throughout the house looking everywhere, places that you would never put Emmy tickets, like the garage, looking for these things. So I called up my publicist at NBC and I told her, and she of course put out that fire.
And then I put on my tux pants and they're like three inches too long.  So I grab another pair of black pants from another suit that I had, and I stuck that with my Emmy suit and hoped to God that the two blacks matched. So here I am, just a mess, running round   trying to make things work. But what do you know? It all just kind of had a happy ending, didn't it?
TVF: It sure did! In terms of what's coming up on the show, we know Eileen's coming back, at least for a little stint, and I'm hoping she's mixed up with Brady. What can you tease is coming up next for Brady?
EM: Well, Brady Black is going to go through some changes just when the seasons start changing, so it's his mentality towards women and drugs. He's going to have a lot of moments of clarity in the next couple of weeks. But in true Brady Black fashion as soon as the clarity comes so does the Kristen DiMera tornado.
So just as he thinks everything is okay it just gets so not okay in Salem because she returns with a vengeance and she definitely wants her time with Brady Black. And it truly is hilarious, it's written very well. She manages to create quite a stir in a short amount of time. So I can promise that if you enjoyed that Kristen/Brady dynamic a couple months ago you're going to get another taste of it coming up.
TVF: What about Brady with his family because he and his dad are going through a little rough patch…
EM: Yeah, he and his father…what a dysfunctional relationship that is. I mean, his father has all the best intentions but Brady wants to have nothing of it. He wants his father out of his life. He believes he's a big boy and can handle himself, like most addicts do. They don't feel they need help so once again, the writers, they got it right. They really got this thing right…but he's still not getting along with his dad. That's not going away any time soon.
TVF: And like in real life, even if the drug addiction lessens, there's still a lot of issues with dads. I mean there just are.
EM: Yeah, there always will be. Until there's a tragic accident. I can preview that. There is a series of events which changes Brady's relationship with his father drastically. And that little stinker Theresa is also involved.
TVF: I would guess if Brady's going to go through changes that will have to mean him separating himself from Theresa since she enables the problem.
EM: Yes, absolutely. I mean, it's interesting that the fans perspective of Thrady, as we're affectionately called, Theresa and Brady equals Thrady. Some fans love the fact that they have found each other through their darkness, through their issues and their problems. They have a commonality, and they like that. They like that as a couple. But on the other hand, they're completely enabling each other to continue their problems. 
Days of Our Lives airs weekdays on NBC. You can follow Martsolf on Twitter and Instagram. 
Jim Halterman is the West Coast Editor of TV Fanatic and the owner of JimHalterman.com. Follow him on Twitter.