It may have been a short week for Days of Our Lives, (It's being preempted the rest of the week for the French Open) - but the show definitely packed quite a punch in three short days.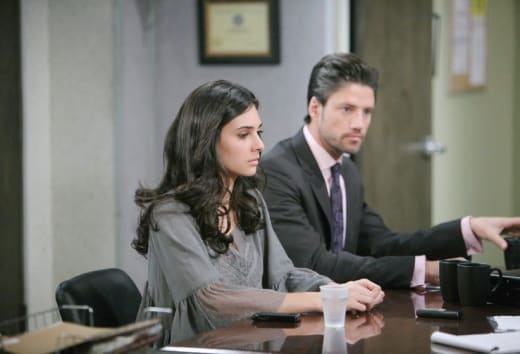 Starting with Gabi's confession. I'll admit, I hadn't been Camilla Banus' biggest fan when she first started on the show but her performance this week was stunning. Despite Gabi's devastated tears, she straddled the line between completely heartbroken and showing more inner strength than we've previously seen her possess. 
She admitted that despite all that Nick had done to her, he wasn't threatening her life and she didn't have the right to take his without consequence. While I suppose that that is true, what Nick was doing to her and those she loved was heinous. I find it hard to blame her for doing whatever was necessary to keep her daughter with the father and family who loved her. 
The fallout from Gabi's confession was already paying for off for fans as EJ came to her rescue, Rafe blamed himself, and Marlena learned the truth about Sami's role. That moment between Sami and Marlena was priceless. One minute Sami was a little girl trying to justify what had happened to her mother and the next the wall went up.
When Marlena asked her daughter if there was something she'd like to tell her, Sami's hardened "no" practically shook the room.
Aidan tried to console Hope as she bordered on a breakdown in the park. The more I see of Aidan the more I like him and I hope to see more. I think he'd have chemistry with almost anyone in Salem, which brings us to the photo on Hope's phone.
This was the first time we've seen a picture of Bo on screen in months. Is it a sign that he's on his way back, or that the show is finally going to bite the bullet and write him off permanently because I can't see Hope getting involved with anyone while Bo is still out there and alive. 
Despite all of that drama, it was far from all that went on in Salem. Ericole fans' hearts were broken as the couple finally went down in flames. Eric was rightfully horrified that Nicole would take away the most important decision of his life under the guise of love. Once again, Nicole was left in devastated tears. It would have been very dramatic if I hadn't felt like we've been here with this character so many times before.
The worst thing about the week may have been the ridiculous Midol commercial in the middle of the show between Abby and Paige. The only upside to it was that if Abigail needed her Midol then she's really not pregnant with EJ's child. 
I can only imagine what Abby intends to say to Gabi next week and I cannot wait for the reaction scenes with Maggie and Victor and then Julie. The impact of Gabi's confession should make for a lot of great drama to come in Salem. 
Tell us, TV Fanatics, what was your favorite part of Gabi's confession?
C. Orlando is a TV Fanatic Staff Writer. Follow her on Twitter.