The one thing you can always rely on is that the lies will come out eventually.
This week on Days of Our Lives, it was Gabi's coverup of hiring the man who stalked her. The same guy who eventually kidnapped Melanie. And the truth hurt more people than you'd think.
Will found out that Sonny had been keeping that secret for years. Daniel finally learned why his daughter left Salem and wouldn't return and poor Rafe had to come clean with one of his best friends.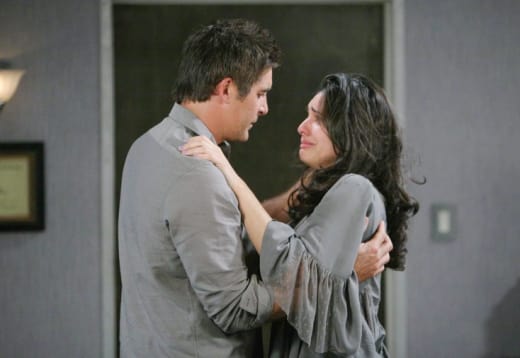 It's Rafe I'm most worried about. He's carrying around a whole lot of guilt for not being able to protect his sisters and it sounded as though his mother just piled more on during their phone call. It's anyone's guess how he'll react under all of this stress and whether he and Jordan will survive the fallout. 
Daniel had a rough week as well. Jennifer basically called him a fool when it came to Nicole. Perhaps she didn't use those words but she obviously doesn't trust his judgement and called him on his history of lies. 
Not that I think Jennifer was wrong in telling Eric the truth, but judgmental Jenn's critique of Daniel made her sound like a hypocrite. It was OK when Daniel was lying to protect her son, just not OK when he's helping out Nicole.
Speaking of judgmental, Marlena was giving Sami the evil eye all week now that she knows she and Kate almost killed Nick months earlier. I loved how Kate wasn't about to listen to a sermon from saintly Marlena as she shot back in this Days of Our Lives quote…
Who's the one who showed a video of her son having sex with Kristen Dimera in front of a whole congregation? You want to see what poor judgement looks like, look in the mirror.

Kate
I also appreciated that Sami didn't beg for Mommy's forgiveness. Marlena has a point. Nick wanted help. But Sami's not wrong in pointing out that Nick had several second chances and blew them all. 
Frankly the only regret I have is that he was pulled out of that river before he died.

Sami
Julie was determined to derail Gabi's plea deal as she had no sympathy for the single mom that Nick terrorized who was about to lose 10 plus years with her baby daughter. Julie wanted people to remember Nick as the loving boy she knew. What she failed to realize was that the only thing anyone would remember from a trial were all of the monstrous things he'd done. 
And I can't forget to mention my favorite scene of the week. Victor went to shake some sense into Brady…again. Of course he started out by calling Teresa a tramp and mentioning how much she reminded him of her mother. I'd almost forgotten how Kim had slept with Victor in order to save Shane's life all those years ago and that for a time, Kim wondered if Victor was the father of her son Andrew, Teresa's brother!
Nothing is better than when a soap remembers its own history.
But tell me TV Fanatics, with all this talk about Melanie, would you like to see her return to the show?
C. Orlando is a TV Fanatic Staff Writer. Follow her on Twitter.