Days of Our Lives packed a lot into three short days, as the fallout from Gabi's confession swept through Salem.
As Gabi faces a prison term, TV Fanatics Nick McHatton and Christine Orlando are joined below Kpatch from MyHourglass a Days of Our Lives Fan Forum to debate the future of Ericole, what they want to see next for Bo, and whether Gabi will be missed. 
------------------------------------------------------ 
Does Nicole have any hope of getting Eric back?
Nick: No, Nicole burned all of her bridges with Eric. He's rightfully devastated at her decision. If something is going to happen, it needs to happen on Eric's terms. Maybe Eric will find his way back to her, but it's going to take a lot of soul searching from Eric (and Nicole).
Kpatch:  I'd say yes, there is always hope, but I think it's going to take a long, long time for him to be able to trust her again, and I'm not sure he should. She proved that her motives are selfish and she is willing to sacrifice others to get what she wants. I don't think she deserves him. The show pretty much destroyed the character of Nicole with this storyline. She went too far this time and I don't think she deserves anyone, except maybe EJ or someone equally devious.
Christine:  Anything is possible but they've made Nicole into the town pariah. Not even best friend Daniel will ever trust her again. I've just grown tired of the Nicole merry-go-round. She does something awful, comes close to redemption, then does something even more awful. She's an interesting character but I don't think I care if she gets back together with Eric or not.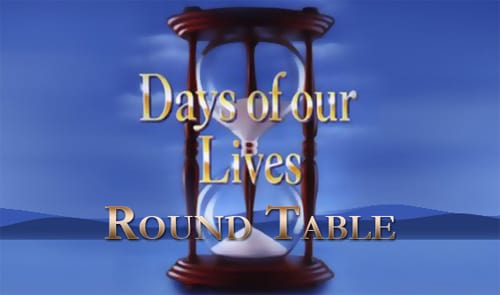 If Peter Reckell does not return to Days, what would you like to see happen with Bo Brady?
Nick: Peter's been gone for a long time. I know he was one half of the Bope, but it's time to say good bye to him. Let Hope explore a new situation as a single, working mother or different stories instead of keeping her stagnant in this Bo limbo. As for Bo, kill him off or have him fall in love with someone else off screen.
Kpatch:  Ooh, that's not the question I was expecting. LOL. I want to find out what was so important that he'd abandon his wife and his young daughter. He was always extremely family minded so these actions were totally out of character. My hope is that he is being held prisoner like Jack was. I need an acceptable excuse for his behavior. Otherwise I may have to write a fanfic and do it myself.
Christine:  I think it's either recast him or kill him off at this point and I vote for killing him off. It will allow Hope to move on with her life and and stop being a background player.  If by some miracle Peter Reckell decides to return to the show in the future, Bo certainly wouldn't be the first character to rise from the dead in soap land. 
Gabi may be off to prison. Will you miss her?
Nick: Gabi has never been my favorite character. This week has been good now that she had some actual material to work with, but it's almost too little too late. So I can't say I'll be missing her character at all.
Kpatch:  A little. I didn't always love her, but if it wasn't for her, Will and Sonny would have no story at all.
Christine:  I wasn't a big fan of hers and her story with Nick drove me crazy but she gave one heck of a performance this week so for that alone I'll miss her. Even with the actress leaving, it wouldn't surprise me if we see the character again sometime in the future.
John called Marlena to ask if she needed to talk. Would you like to see these two get back together?
Nick: Yes, but at this point they've stopped even running into each other. Until Marlena thaws though, there's little John can do. 
Kpatch:  No, I never liked them together. I see no pull between the two of them, no lingering emotion other than annoyance. I think whatever they had is now dead and gone.
Christine: Years back, I was a big fan of these two but they haven't had any chemistry, or storyline for years. I'm not sure if I want them together or not. John has a long road back to being redeemed and I wish they'd write him a scene where he isn't arguing with Marlena or Brady. 
What was your favorite scene or story of the week?
Nick: It was the subtle ad for the Midol commercial, obviously. No, Gabi's confession is my favorite story of the week. She's actually likable in the scenes, and I wish I could have gotten to know this version of the character more than the one we've been stuck with all these years.
Kpatch:  Gabi confessing her crime at the police station. It was so emotional and so real and earthy, she really got to me -- so much so, that I forgot Camilla was acting. She gave an Emmy-worthy performance. 
Christine:  I agree. This was a whole new Gabi and after three days of wonderful performances by Camilla Banus I found I only wanted more. Too bad we didn't see more of this while she was on the show all these years but at least she gave one heck of a swan song. 
C. Orlando is a TV Fanatic Staff Writer. Follow her on Twitter.