Finally! 
Devious Maids Season 2 Episode 7 featured some shocking moments that revealed more about the Deerings and their secrets.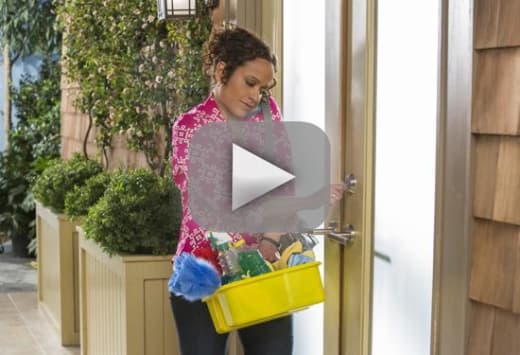 Marisol was still convinced that Dahlia and Opal carried on an affair. She basically demanded that Nick fire Opal and couldn't understand how he would want to live with his dead wife's lover still there. It seemed like a fair request.
Rightfully so, Marisol was upset and gave Nick an ultimatum: her or Opal. Through a flashback to the night Dahlia died, we found out that Opal was the one who pushed Dahlia. Flashback to the present day and Opal ran Nick over.
Seriously, what a psycho! Is Nick still alive? Will Opal get her comeuppance? Writers, please say yes.
Several of the maids' storylines centered around communication issues. 
For example, when Remi's run-in with Ethan left him with a weird vibe, he tried to warn Valentina - but of course she wouldn't hear it. 
She was a bit busy trying to get Adrian back home when she found out about Evelyn and Tony's special arrangement. I, for one, am glad Adrian is back because he makes me laugh hysterically.  
Meanwhile, Reggie and Spence met and things didn't go all too well between these two. I was so glad that Spence finally came clean to Rosie about the terrible things he said to her and that Peri put him up to it. 
Unfortunately, Reggie's jealousy put a plan in place to show Spence in a violent manner. While Spence tried to explain what happened, Rosie couldn't see past the evidence of Spence's anger and believed Reggie way too easily.
As expected, Ty continued to grow fondly of Carmen. I have a feeling things are going to get very strange now that Ty suspects Carmen and his uncle are together. 
Elsewhere, 
Zoila got closer to Javier at his maid's expense. Luckily, Javier realized that Zoila just wanted to help and has a big heart. 
Other Thoughts:
I was so happy to see Adrian again. I like him even more now knowing he's also a huge fan of macarons.
Don't forget to check out our Devious Maids quotes section. As always, Evelyn had some terribly cruel and hilarious lines.
Did you miss Genevieve this week? I did.
This installment really made me realize that it's time for a good 'ol fashioned summer cleaning. Yes, I may have missed spring cleaning.  
Overall, "Betrayal" set up the second half of Devious Maids Season 2 quite definitively. I'm ready to see what else is in store and look forward to Marisol puting Opal in her place.
Is Nick alive?