Gang Related Review: Doing What's Right

Carla Day at . Updated at .
Ryan may have loyalties to the Acosta family, but he proved  that he's a damn good cop this week.
It took until Gang Related Season 1 Episode 4 for Ryan to get a case that wasn't related (or so it seemed) to drugs and his family's business.
The task force had information that a high value Russian mafia guy had arrived in LA. Instead of finding guns, they found girls.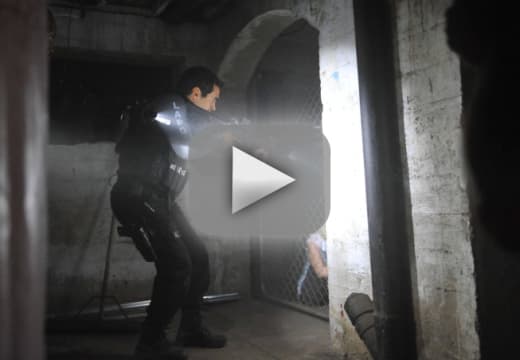 Ryan took the case personally when one of the victims, Lourdes, told him the abducted and imprisoned women were from his birthplace, Jalisco, Mexico. The women were forced into prostitution until they got pregnant and then their babies were taken away from them.
When they gave birth they were put through the process again. Lourdes identified one of the women, Anna, at the hospital as being involved. 
The task force went all out to get the information necessary to take down this group. Ryan was pushed to the brink multiple times throughout the investigation. He threatened Anna, banged her into the table, but she wouldn't talk. If she'd given up her boss right away, she'd still be alive. Instead, her "lawyer" showed up and stabbed her in the neck with a pen.
It was gruesome.
With not enough to go on, Chapel sent Vee to talk to a possible asset, who turned out to be her brother. He wasn't forthcoming at first, but when he realized something was wrong with his sister, he made a trade of information. She told him about her possible HIV status and he told her about a doctor selling babies named Pasha.
With Lourdes' information about bleach and barking dogs, they tracked down a likely suspect in a veterinarian instead of a doctor. The combination of sources and clues led the task force to more women and even one giving birth. It was impressive deciphering of victim statements, asset information, and gut feelings.
Ryan took the entire case personally and probably would have killed the vet if he could have gotten away with it. This case was an important change of pace from chasing gangs dealing drugs. It showcased a different side of Ryan and reinforced his inner values of right and wrong. It will be interesting to see if he continues to side with the "cop" side over his "loyalty to family" side.
While working the case, there wasn't a connection to Javier's business, but in the end Javier asked Ryan to help get the Russian out of prison to "help the family." Instead of agreeing, Ryan refused. It wasn't worth the family getting clean earlier to let the despicable Russian go free.
There are definite divides starting to show between Ryan and Javier. The closer Ryan gets to his job, helping people, and especially Jessica, the less likely he'll be to help Javier break the law. At some point, Ryan's going to have to make a choice. While Javier says he wants to go legit, he's still willing to do terrible things to get there. 
I've wondered why Javier doesn't just leave the business and that was answered. Javier owes money, a lot of money, to someone even bigger than him. The deal he made to get out in 18 months, could be one that ends him and his family. No missed payments, no problems, no excuses is a high gamble to take.
Javier clearly cares and loves his family, but it may not be enough.
Odds and Ends
Javier manipulated the various gangs well. He gave them a chance knowing the outcome.
Chapel may have good intentions, but his methods are wrong. I hope that Daniel doesn't fall for the entrapment that's likely coming his way.
If Ryan's going to turn towards his family, instead of the law, it will likely be caused by Chapel crossing the line and hurting innocent people.
I felt bad for Carlos for about 20 seconds and then went back to hating him. His anger and self-destruction will only bring down his family.
"I need this for me." - Ryan finally stood up for something he wanted instead of giving into what Javier wanted. Good for him.
Does Javier really want to go clean?
Carla Day is a staff writer for TV Fanatic. Follow her on Twitter and on Google+.