Halt and Catch Fire Review: Breaking Out

Sean McKenna at . Updated at .
One of the things I've been concerned with while watching Halt and Catch Fire is for the characters to stay primarily the same, and in each hour, follow a specific routine.
Joe gives his entrancing speeches, shows just how slick and cool he is, gets a bit angry and ultimately manipulates those around him into doing what he wants.
Gordon tries his hardest to work on the computer, has a bit of friction with Joe over the process and ultimately gets into a fight with his wife, Donna. And then there's Cameron, who can't seem to get her work done, looks depressingly frazzled and ultimately freaks out and/or runs back to Joe.
Sure, there's a bit of variation here and there, but it's felt like the character arcs were stuck in a time loop.
So, it was a pleasant, pleasant surprise that Halt and Catch Fire Season 1 Episode 5 took its own predictability and shoved it out of the way and then some.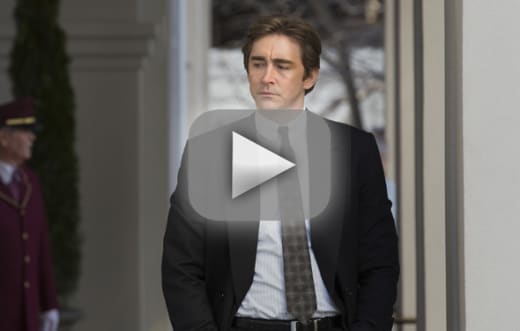 I liked seeing John take the lead when discussing the brand new computer but ending up having to refer to the "carpetbagger from New York," who was able to spice up some interest with his words.
And Joe knows how to use them, he acts important, he sounds off with authority, and its not surprising he is successful in that right.
But we've seen that again and again (even if actor Lee Pace nails that side of the character effortlessly), it was exciting to see Gordon step up to the plate and gain some solid traction on the PC project on his end.
Asking his father-in-law for an introduction to the Japanese company to build LCD screens for the computer, you know, to make it lighter, was a big step for him. Not only because it takes a lot to ask someone for that help, to ask your father-in-law, but the two don't seem to have the most solid of relationships. Still, Donna's father seemed eager enough to help.
And I was rooting for him, even smirked at Joe's confusion that Gordon might have contacts, and then made a major face palm as Gordon got drunk and seemed to have messed the whole meeting up.
I felt for Gordon, and it was a bold and brave move to once again go to his father-in-law for help (his wife didn't really want to chat because she was making pie and flirting with her boss. Where's that one going?), to go to his home, hat in hand.
So it was very cool for Mr. Smooth-talker to do his smooth talking and spew out words and exaggerations about his relationship with his father to apologize and get the deal back on. But it was a far better turn when Gordon revealed he had managed to fix his mistake and right the wrongs, even with Joe trying to squash Gordon's crews' celebration. Sometimes Joe needs to be knocked down that peg or two, especially because Gordon wasn't trying to brag about the deal.
But it felt obvious that Joe's stories of his father weren't the truth. It's hard to tell when Joe does tell the truth, but I'm glad we finally got to put a face to the mysterious dad. He's no Darth Vader, but there's some bad blood between those two.
Which made it quite interesting that the interaction wasn't between father and son, but between Joe Sr. and Cameron. She listened to him act like a big shot and take shots at her and his own son, and really, she wanted nothing to do with either of them.
We did get some history on her father who fought in the war but unfortunately didn't make it back. So it was easy to assume she would spend the rest of the hour moping.
But she too turned things around, with a little advice from Joe Sr. in a way, by creating the Adventure game and figuring out which workers the PC effort really needed. With the BIOS finally done on that end, her next step was taking an actual leadership role. And I love a few of the new characters, including Yo-Yo.
She was confident, showered, and taking charge in a way that was engaging to see. And it was especially evident at the start of the hour that her next stage of the journey was going to be a far brighter one (that orange glow) compared with Joe (that dark green glow).
It was pretty funny too to see John playing the game.
Really, Cameron and Gordon, even with a few bumps, managed to step up and break out of their routines. Joe on the other hand, well, he's still got that pent up aggression and emotion, and he's even more alone personally.
That scene with him far away in the room, alone at the table and talking to Cameron about her deciding to hang out with the other programmers really set the two apart. Even his angry smashing of the car at the very end makes me wonder how long before he is that bomb that's going to destroy everything in its wake.
The PC seems to be getting some legs, but I can't help but wonder if its chief promoter, Joe, might bring it all down. Or can they find a way to work through all the personal drama (yeah, right) to find some true success and really break out beyond their competitors, their doubters, and even themselves.
Either way, this was a big step up for the series and a compelling "Adventure" I was glad the characters and story was able to take.
Will Donna cheat on Gordon?
Sean McKenna was a TV Fanatic Staff Writer. He retired in May of 2017. Follow him on Twitter.