Who is Joe MacMillian?
Sure, he's the so-called leader and captain of Halt and Catch Fire, bringing together the core three characters on his quest to build a revolutionary personal computer. He's fiery, passionate and energetic... yet he's equally enigmatic.
He's the ultimate salesman and it's completely understandable to see how people hang on his every word whether he's "borrowing" Steve Jobs quotes, firing up the team or breaking down and revealing more about himself.
Lee Pace is mesmerizing as the visionary character, providing the charm, the anger, the vulnerability and manipulation all in a fantastic manner.
He makes you question whether Joe has a plan at all, whether he even cares about not just the three lives that could potentially be ruined but the lives of all the workers at the company.
And yet, you can't help but like Joe and want to see just how far the creative ideas can go to become reality, even if that means burning others in the process.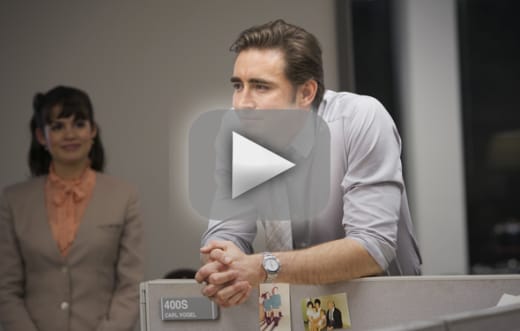 And really, where Halt and Catch Fire Season 1 Episode 1 explored the exciting possibilities of innovation and drive, Halt and Catch Fire Season 1 Episode 2 exposes the flaws of Joe's system, the kinks that need to be worked out in the group and even getting the computer process started, along with the human consequences that could come with it all.
It's easy to think that combining the forces and talents of Joe, Gordon Clark and Cameron Howe will magically deliver a new computer. But there's far too many bumps in the road before smooth sailing and the perfect ride; the hour made that perfectly clear.
And it's even more wild to think about their end goal starting out as an idea, when we, today, have portable computers often just inches away. We know that end result and yet watching the three fascinating characters collide and work together remains the best part about the show.
Take away all the tech speak about BIOS and computer code. Take away the moments where Gordon gazes at Cameron's work on the board (I have know idea what it means, but he does, and it sounds like the burgeoning works of something brilliant). Ultimately, what shines through are those characters - and each has great moments that make you want to know more.
It makes all of them that much more interesting to watch.
Like Cameron sleeping at the office, finding shortcuts in the code, her random assortment of items in her backpack and her own brash demeanor are just pieces to her puzzle.
And I love her interactions with Gordon and Joe, especially with Joe.
Because she is able to see past Joe's manipulations, even if she ultimately wants to get to his same end goal.
Joe's scene where he breaks down and reveals why his body has been all messed up is a powerful one. Not only are you sucked into his story of torment and the reasons for pursuing the three, for pursuing the computer goal, but Pace does such a great acting job that you nod your own head in agreement.
But it says even more, both for Cameron and Joe, the day after, when Gordon and Cameron both come back into work. You're excited they want to get things done, and yet, Cameron revealing Joe's story was all a sham changes everything. It really does make him a master manipulator. And that smile on his face at the end is the icing on the cake.
Certainly the hour does fall a lot on Joe moving his "pieces" about, as the story moves along (and quite quickly), even exploring his character. Just how dark is his past?
But it's great to see that all three hold their own. Gordon too can get fired up, from the meeting room to confronting Joe in the parking lot. The stakes are certainly raised and you can feel things getting more tense with each passing minute.
And it makes moments where you think silly drama will unfold about Gordon not telling his wife about Cameron being a girl completely instead disappear and the problem is solved without a big fiasco or roll of the eyes. It makes me wonder if Gordon's wife might find her way into helping build the computer, too.
There's a lot to like about the follow-up hour and pulling back those layers while watching the tech boom take off is exciting. The possibilities feel endless and with some great pacing, compelling characters and a riveting story of humans and technology, it's pretty clear that Halt and Catch Fire is going to blaze a pretty exciting trail.
Of the main three, who's your favorite character on Halt and Catch Fire?
Sean McKenna was a TV Fanatic Staff Writer. He retired in May of 2017. Follow him on Twitter.