Technology has become so embedded in the culture and our everyday lives that it's hard to think of a time where people didn't have smartphones and personal computers at the touch of their fingertips.
But with AMC's Halt and Catch Fire, the era of the PC is getting its initial sparks - and the intense battle for superiority in the tech world is just heating up.
This dark and edgy period piece set in the 1980s (and it feels like it) tells the fictional tale of a visionary, a prodigy and an engineer, who set out to reverse-engineer an IBM PC, creating their own computer that will change the future.
It's the kind of series that will probably involve a slow burn: building on the characters, relationships and personal struggles, all while capturing the creation of something special with all its successes and failures.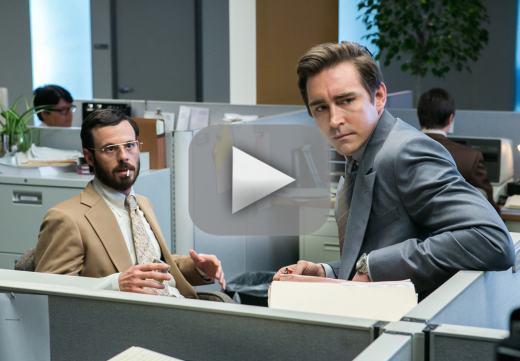 It's easy to write this show off because you immediately feel like having zero or little knowledge of computer speak with all its code and specific language will hinder enjoyment of the series.
And while there is some of that in Halt and Catch Fire Season 1 Episode 1, the general concept is easy to grasp and it's the compelling core trio of characters that make you want to see them in their endeavors.
Just think of something like the film The Social Network and its look at the creation of Facebook. That too involved certain nuances and tech speak, but at the center of its intriguing tale was the people involved, the journey to get there, the friendships, betrayals and general human elements.
And that can certainly be said for Halt and Catch Fire.
Leading the pack is Joe MacMillan, played by Lee Pace with a cool, suave and intense passion. Joe's slick and manipulative and carries a mysterious past with him... but is so convincing in his eagerness to start the PC revolution that you can't help but like him.
And, sure, Joe can be quite arrogant, yet there's such a confidence involved that it's no surprise he's able to draw in those around him.
Gordan Clark (Scoot McNairy) is the tech genius burdened by a "normal" life, trudging through the days underused and uninspired. He initially seems like such a drone, but after Joe comes into his life and gets him thinking again, it's as if a switch is lit off.
There's still a nervous, shyness to his character, but he too can carry a confidence when it comes to falling right into his field, into what drives him.
Watching him get that IBM computer to start getting all its numbers in order to start building their own computer was entertaining to see. There's something exhilarating about watching creation at work.
It's not surprising that his home life and family would cause friction in his desires. I was immediately put off by the stereotypical nagging wife. Yes, she eventually came around in the end, but the way she was written already put her on the opposite side of the characters you want to see succeed.
And I can't imagine that confrontation between those two is suddenly gone and she's super supportive. There's bound to be more family drama, which can be very interesting, but I hope it doesn't become a tired approach.
If anything, I'm definitely enticed by the relationship of Joe and Gordon and watching their burgeoning bond as they dive right into computer making.
As for the third counterpart, Cameron Howe (Mackenzie Davis), she's got this tough, intelligent vibe that's engaging. There's something about the way she carries herself, her own confidence, that will be interesting to see, especially with the two men working with her.
It's great to see that even with the small screen time she has in the pilot, she makes her mark as a worthy and even partner in the team. I'm sure there will be plenty of sexual tension between her and Joe as well, seeing as the two already hit it off after a rousing arcade game.
The concept of the personal computer race is a fascinating one and the tone/pacing of the hour makes it easy to get sucked in. But it's success will most likely hinge on building on the characters, keeping them interesting and providing the right touch of drama as they attempt to innovate in the competitive computer world.
Halt and Catch Fire is the Mad Men of the PC era - and hopefully it catches on.
Sean McKenna is a TV Fanatic Staff Writer. Follow him on Twitter.