Ready to jump right in to the summer season of Keeping Up with the Kardashians?
Kim, Khloe and Kourtney certainly were, as the sisters were bouncing on a trampoline to kick off the latest installment.
We quickly learn that someone has already made an offer on Khloe and Lamar's home, a positive move financially, but a confusing one emotionally for the scored, estranged wife.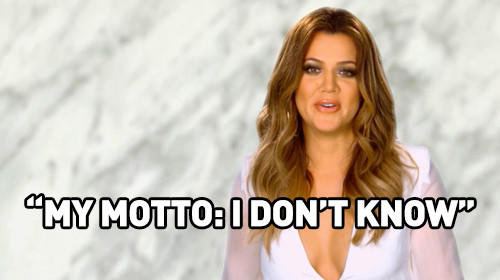 Kim and Kris then clash (klash?) over the fact that the latter is going to a Rick Ross concert (with Diddy!), while the former is staying at home and sort of sucks these days.
Elsewhere, Scott asks for Khloe's help in purchasing a sports car, eventually buying a white Ferrari for his baby mama.
He also says he plans to return to a retreat in Arizona because he's having a difficult time emotionally and he wishes Kourtney would open up to him more.
And, let's face it, if anyone needs a break from his tough and stressful life, it's Scott Disick.
At lunch later that day, Khloe notes that her mom is wearing huge Gucci earring and says: "The bigger the hoop, the bigger the ho." 
She also says Kris and Kim are having a "MILF-Off" with their revealing outfits.
(The writers sisters are really on their games this week with the one-liners!)
It's about to get worse, though, when Kris spots Kim Twerking with Larsa Pippen and invites herself along to a pole-dancing class with the gals.
This leads to what we can only describe as two VERY contrasting GIFs from Keeping Up with the Kardashians Season 9 Episode 8:
Kris' desire to show off her "milfness" only worsens from there, as the daughters later walk in on her posing for a photo shoot that pretty much exposes her nipples.
She gets angry at their stunned and embarrassed reaction, but Kim eventually apologizes and admits that she gets all her sexiness from her mom and the two make up via selfie.
AWWW! Vomit!!!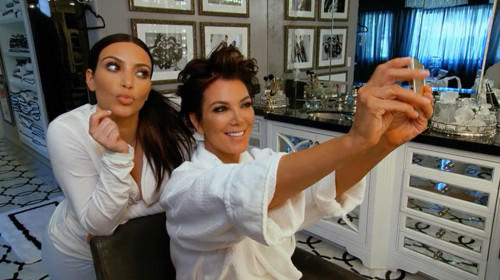 From there, Kris, Kim and Bruce Jenner surprise Khloe to help her move, but she isn't prepared to take this major life step and tells them all to beat it.
Kourtney then meets up with Tejpal - described as a "healing practitioner" - in order to work on her emotional issues.
She's told that she's simply a deep thinker who takes time to assess situations, admitting that she's on the "verge of a breakdown" and she's advised to take a lot of time to herself.
She ends up having a heart to heart with Scott, saying she'll listen to him more, and they tell each other they're totally in love.
Oh, and one more thing:
Matt Richenthal is the Editor in Chief of TV Fanatic. Follow him on Twitter and on Google+.