Note to Kanye West: you may wanna have a handful of takeout menus ready.
On Keeping Up with the Kardashians Season 9 Episode 9, Kim learned how to cook, Bruce got a haircut and Scott made a possibly valuable discovery.
We start things off with Bruce getting himself a trim, but choosing to keep the ponytail because, hey, it looks cool!
He also gets some highlights, along with an opinion from estranged wife Kris.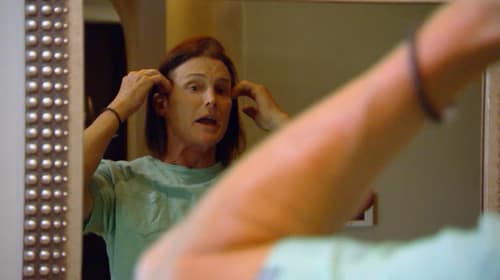 And what is that opinion? Well...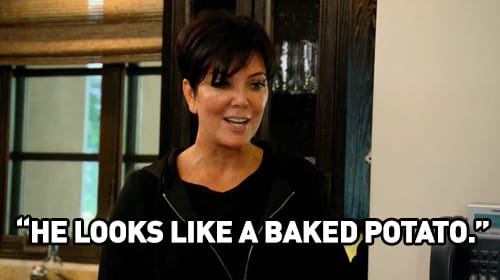 Kris thinks Bruce is a "hot mess" and says she wants him to "look and feel his best," even if they are separated. Isn't Kris Jenner just so considerate?
Not really, according to Bruce, who snaps at his wife for being "controlling." It only took him like 20 years to figure this out, apparently.
Kourtney, meanwhile, is awaiting the arrival of a painting she had shipped out from her in-laws. Could it be a Amedeo Modigliani work that's worth millions?
If so, Khloe has a request: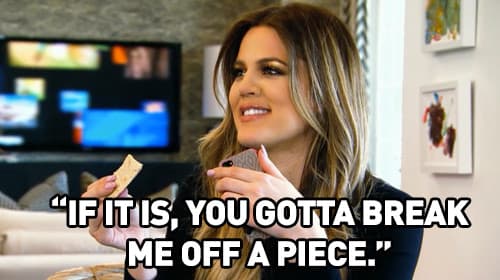 Later, Kris actually stops by Bruce's house unannounced to stock his fridge, doing that whole control thing again.
She also invites him to a Yoga class with her and Kylie, but Bruce's knee hurts, he gets fed up and he leaves to play golf. This doesn't sit well with Kris... and she doesn't sit well with Bruce: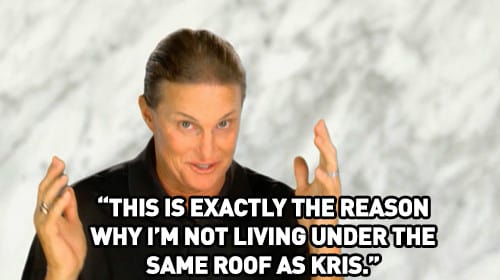 We also learn that Kris has installed a camera in her closet and caught Kylie stealing clothing with it. Totally normal, right?
Once Kylie and Bruce both storm out, Kris is left all alone. Cue her very sad face.
Back at Kourtney's, an appraiser arrives and actually confirmed that the painting is real. He recommends an art expert come in to examine it next.
Scott admits he's always wanted to be "super rich" and is making plans to buy a private plane. He totally deserves it, don't you think?
Except for one thing: the art expert eventually arrives and says the painting is fake. What a bummer!
In one final attempt to smooth things over, Kris surprises Bruce by arranging a group cooking class with his daughters on this episode of Keeping Up with the Kardashians Season 9.
He isn't exactly psyched about it ("This is why I had all these girls, so I didn't have to cook."), but he tries to let his inner Martha Stewart out anyway.
Kim is trying to get into it because she'll be married soon (and clearly cooking every meal), but her fine meal gets thrown for a loop when she finds one of Bruce's hairs in it.
OOPS!
We end with Kris realizing that Bruce has to be left on his own and that she ought to give him some space.
You know, until next week's script calls for the opposite.
Matt Richenthal is the Editor in Chief of TV Fanatic. Follow him on Twitter and on Google+.