Major Crimes Review: Sometimes They Change

Carissa Pavlica at . Updated at .
Another week, another hour for Raymond Cruz to shine in his portrayal of Julio Sanchez.
We're delving deeper into his character than ever before, and in Major Crimes Season 3 Episode 2 a case he worked 17 years earlier is opened when a convicted killer gets early release on parole.
The discovery that the wrong man was convicted and sent away almost proves too much for Sanchez, but he finds a way to atone for what he considers his personal responsibility.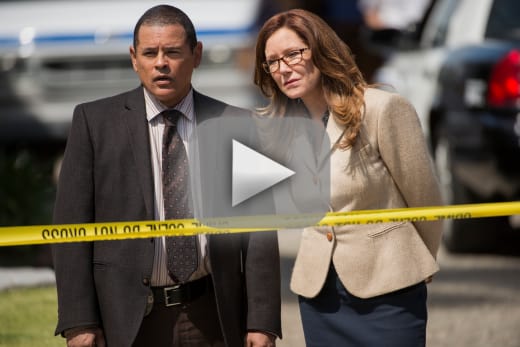 The killer, Dante, was accused of murdering a teenager, Anna, who was his girlfriend at the time. There was a witness. The witness went into protection and for 17 years lived without worry -- until Dante's parole was granted. 
Everything went wrong for Dante. He lied in his parole hearing to get out so that Anna's true killer was finally found and prosecuted. Dante knew he wasn't a good guy, but he wasn't a killer, either. As it turned out, he was committing armed robbery 23 miles away from Anna's murder, but copped to it to protect his friend from the 3 Strikes laws. One more strike and his friend would go away for life.
For his lie he was given protection in prison from his friend -- who only lasted seven months on the outside before getting a life sentence anyway. It was too late for Dante to take back his confession, so he did his time.
Sanchez was certain everything about the case was cut and dry, but Sharon found holes in the protected witness' memory. Then Dante was killed and Sanchez thought it was his fault. Dante's grandmother lost her son to an unsolved murder years ago and now she lost her grandson. She had no faith in the system to solve Dante's murder.
Dante's murder was solved and Sanchez delivered the news that he was also innocent of the crime to which he confessed. Sanchez reopened another case; that of Dante's father. In his own time, he promised Dante's grandmother that she would finally get justice. The police do care about her people. He is her people. Dante had changed and Sanchez changed. He'd make things right.
When she told him he reminded her of her son and he raised his face with a tear rolling down his cheek -- wow. Cruz gave brilliant performances all night: the initial courtroom scene and his disbelief about Dante's release, the look on his face when witness Cesar (who was the murderer) said he wasn't the same person he was all those years ago and the emotional moment with Dante's grandmother. 
Elsewhere, Provenza used his personal day to help Rusty deliver his mother from rehab to the station to meet the other Sharon in his life, Raydor. As always, Sharon maintained the utmost composure and the meeting went really well. Rusty's balloon of happiness was deflated a little when his mom revealed that she was in court-ordered rehab.
Rusty: It's bad, isn't it, that she didn't check in there on her own.
Sharon: Rusty, how she got there isn't as important as what she does with it.
It's so well done how Sharon always puts Rusty and his needs first, even if she's scared to death at the thought of losing him. She wants him to have a relationship with his mother for as long as his mother can do it, and Sharon will stand beside him and ensure he doesn't regret any decisions he makes. It's so touching.
I really hope we get the chance to meet Sharon's children at some point. We know that Jack wasn't a great father, but Sharon must have been a great mother. Her kids need to come to town. Anyone?
It looks like we get a lighthearted installment next week. Maybe that's when we'll touch base again with Rios? If you need to see her before then, you can watch Major Crimes online via TV Fanatic!
Do you think Rusty's mother will stay in rehab past 60 days?
Carissa Pavlica is the managing editor and a staff writer and critic for TV Fanatic. She's a member of the Critic's Choice Association, enjoys mentoring writers, conversing with cats, and passionately discussing the nuances of television and film with anyone who will listen. Follow her on Twitter and email her here at TV Fanatic.