It's the mother of all cases on Rizzoli & Isles Season 5 Episode 1, as a young parent is stabbed 17 times while jogging in the park with her baby son.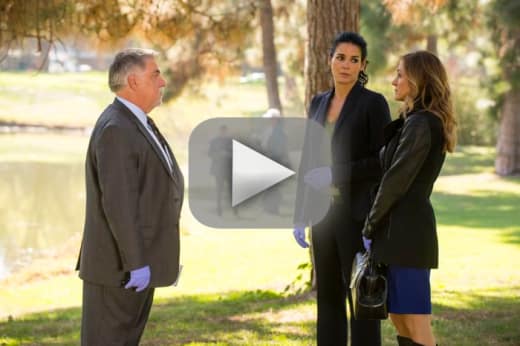 The missing child hits home for a newly pregnant Jane, who is being plagued by crazy pregnancy dreams. That nightmare was fairly intense. You could feel both the fear and the determination rolling off of Jane in waves…until she opens that door and sees herself in her mother's robe holding a baby.
Then she's completely confused. 
Thankfully, she confides in Maura, who seems even more protective and affectionate with her friend than usual. She was actually fussing with Jane's hair! 
I wonder how long it's been since we left off because Jane still hasn't told Casey he's going to be a Daddy. Will he care? Will he want to be a part of the child's life? Will he expect it to come to Guam for summer vacations?  It's really anyone's guess. 
But it didn't take long for Angela to figure out that her daughter's pregnant. The morning sickness was a clue, but Jane not drinking her coffee was the clincher as she said in this Rizzoli & Isles quote…
She's glowing. She's not drinking any coffee and we know her blood is 63% caffeine.

Angela
Elsewhere, Maura and Frankie seem to have resolved their sexual tension after last season's kiss. Thank goodness. 
You're like a brother to me, with really soft lips.

Maura
I love both characters but I'm not sure a romantic relationship would ever work between them and the family fallout from a breakup could have been catastrophic. They both looked just as relieved as I felt that this storyline was over.
Back to the case of the week.... The moment I saw Caitlyn, I figured she was involved in the murder but I didn't peg her for being a complete psycho. Trying to steal the baby was bad enough, but stabbing the mom 17 times to get him was just brutal.
In the end, I enjoyed the dichotomy that the homeless woman took perfect care of the child while the couple that had the appearance of being perfect parents were anything but.
You never know who's going to be a good parent until it's time for them to do the job.

Korsak
Speaking of which, I'm really looking forward to watching Jane go through this pregnancy and raising a child. She's more than capable of being an excellent mother and I can't wait until she lets her friends and family in on the news. 
Now for the terrible end, made all the more tragic by the truth of it: Detective Barry Frost was killed in a car accident. The devastation on his friends' faces hit even closer to home when you realize that actor Lee Thompson Young died at the end of filming last season.
As the cast and crew dealt with this tragedy in real life, now their characters will have to go through that painful process on screen and the audience will have to say goodbye to a character they enjoyed watching for the past four seasons.
Tell us TV Fanatics, should Jane tell her family about her pregnancy now?
C. Orlando is a TV Fanatic Staff Writer. Follow her on Twitter.