Summer is always officially back in session when Royal Pains returns to USA Network. 
It's been a long winter for our favorite Hamptons crew, wrought with growth and change fully on display in Royal Pains Season 6 Episode 1.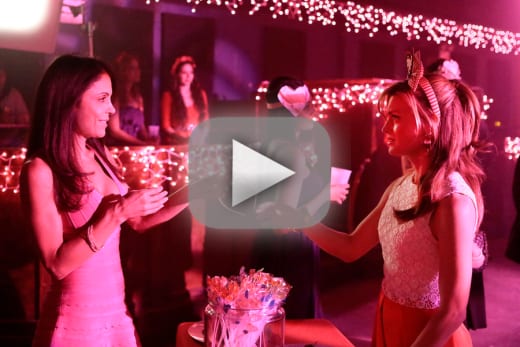 Coming back to the Hamptons, you almost wouldn't recognize HankMed!
Divya had her baby, Evan and Paige have clearly gone to marriage therapy and Jeremiah... well, he's just Jeremiah!
The team was clearly able to hold down the fort in Hank's globetrotting absence and the cohesion formed between Jeremiah, Divya, Evan and Paige is evident.
If you'll remember from Royal Pains Season 5, Divya and Jeremiah became roommates, with the latter vowing to help her through her pregnancy. I reveled in all the times Jeremiah tended to Divya, either without her having to ask or informing others of her pregnancy and delivery plans.
Striking, also, was the distinct step away from the seemingly romantic tension that permeated the relationship between Jeremiah and Divya, no doubt likely a result of their cohabitation. I can't say I missed it all that much in the grand scheme of things, but  it certainly caught my attention!
The romance was far from missing between Evan and Paige, who suffered some early marital struggles in Season 5. Therapy has seemed to do them wonders, as I never thought I'd see the day Evan offered to help decorate headbands!
It's clear that Hank's absence took a bit of a toll on Evan, but it seems like his growing relationship with Paige and his love for the new addition, Sashi, certainly helped him pull through.
Hank was feeling like the odd man out with his namesake company colleagues. You had to think he would have expected things to change rather drastically without him there for the day-to-day, but somehow it still seemed to take Hank by surprise.
I have to say it made me a little upset. I'm not even upset that they thought it necessary to explore how Hank would respond to exiting the scene for a bit, but really over the fact that he left it for another one of Boris' shall-not-be-named purposes.
It's just getting a little overplayed and I'm not sure that the so called "objectives" Boris so desperately wanted Hank to participate in will contribute to his personal growth in any way. That's frustrating from a storytelling perspective and has me asking "So what?" as a viewer.
That point aside, it was really nice to see Hank using a guitar strap and the neck of an electric guitar for medical purposes again. Welcome home, Hank!
Also, a shout-out to Bethanny Frankel for her cameo. I'm not sure what it was about... but I'll take it!
So, whose story are you most excited to watch unfold this season?
C. Charles is a TV Fanatic Staff Writer. Follow her on Twitter.