There was a lot of pride and a lot of prejudice on tonight's installment of Suits.
Rachel's relationships with Harvey, Mike and Logan Sanders caused some prejudice between the dueling clients, while Jessica's apparent alliance with Jeff Malone caused both some prejudice between he and Louis and some wounded pride on Louis' part.
Some would say it's all par for the Pearson Specter course, making Suits Season 4 Episode 2 no exception to the status quo.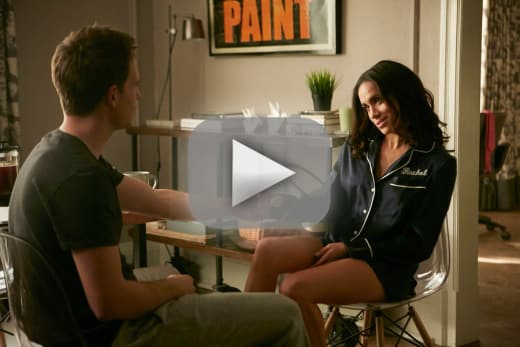 It didn't take long to realize that Logan Sanders was super shady. I thought it stopped at him being a cheater, but then he had to go and try and make Rachel not disclose their affair to Harvey. Things only got worse when Logan starting making innuendos during his meeting with Harvey... with Mike sitting across the table.
Let's just say that Rachel's relationships only fueled the growing fire between Mike and Harvey that seemed to reach wildfire proportions this evening.
Mike is clearly looking over the edge and into the abyss as far as his new position goes. From the beginning, his shark of a boss has threatened his livelihood in the absence of big league wins. It's clearly fueling Mike's desire to pull one out over the great Harvey Specter, but it's also apparent there are going to be some growing pains involved.
Let's take his loss of the $30 million deal. Harvey wasn't wrong to tell Mike he should have been fully prepared to walk away from the deal if he was going to walk from the table. But it also begs the question of why he truly walked away; to pose Harvey a challenge or to stick it to Sanders?
To be fair, I'm not sure Mike knows either. What was nice to see was that despite the clearly sensitive nature of Rachel and Logan's past, it seems Mike and Rachel were able to work things out for now. Professional and personal is hard to separate and this was a first test of sorts. Let's hope that for their sake it holds!
One person I wasn't sure was going to be able to hold it together was Louis. From that hilarious planned presentation to this journal of defeat, the man was barely pulled from the brink of self-ruin this evening. Or so Louis would have you believe.
It was an absolute hoot to see Louis and Jeff duke it out verbally in front of the client, made only better when Jeff and Louis went toe-to-toe in the office. It seems that Jeff will have more to bring to the firm than some well-played tension between himself and Jessica. This encourages me.
So, as the war continues to rage between Mike and Harvey, do you think Harvey made the right move to walk away from negotiations?
C. Charles is a TV Fanatic Staff Writer. Follow her on Twitter.