People make a lot of bad decisions in life, but it's only in setting them right that they can turn them around.
There were a lot of poor choices on Switched at Birth Season 3 Episode 13 - and while we didn't have conclusions to any of them, it was interesting to see how and why people made them.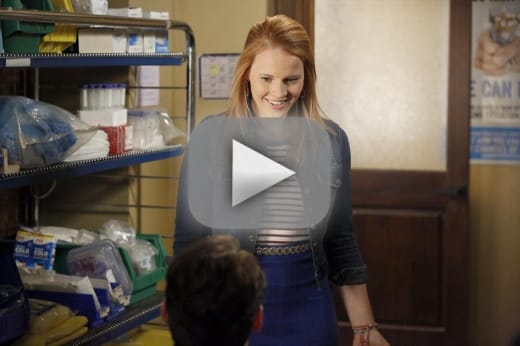 Because Daphne asked Dr. Jackson about a paid job without talking to Campbell, she lost him. As she does with a lot of things, not only did she get the job without sharing her intentions with her boyfriend, but she also went overboard on her first day and sort of lorded things over Campbell. It didn't turn out well.
After taking her advice to talk with Dr. Jackson instead of holding it against her, Campbell was referred to another clinic for a paying job. But it wasn't only about the job, it was the way Daphne went about getting, never really thinking others at the clinic might have been awaiting such an opportunity. He won't have time for her with his new job.
Kathryn's sexy photo shoot for her book cover was fun. John's been really calm lately and his reaction to it was that they shouldn't be using male models when they have the real thing, and he excused himself to go work out. Kathryn learned there was an injunction about the character she created after the reporter who did the other switched at birth book.
She had second thoughts about ruining her life (as the reporter called it), but Kathryn's editor is pretty sure any publicity is good publicity. Something tells me that's not going to end well.
The Kathryn and John reacted to Bay's need for the morning after pill was very tasteful, followed by a very sweet discussion between father and daughter when she admitted he had taken Tank to task for no reason. She was the bad guy, cheating on Tank with Emmett. John just counseled her about choices having consequences and reminded her how much she was loved. 
Bay and Emmett tried to solve Emmett's problem of sending photos of his junk to Mandy and only discovered Matthew is gay. Honestly, I think it's complete and utter BS to let him get away with what he did to Emmett because of his hidden sexuality issues and I'm a bit disappointed in Switched at Birth for going that route. It's not OK to bully kids for their sexual orientation, but it's OK to plaster photos of a guy and his texts all over campus if you're in the closet. I don't think so.
Part of me wondered, as Emmett sulked away after his discussion with Matthew if they might not have thought about Emmett being a gay character, as well. I'm not sure they'd do that to Bemmett fans, but it crossed my mind. The whole Tank/Bay/Emmett/Matthew~Mandy plot feels very unfocused.
I loved seeing Angelo and Regina grow closer, but she's lying to her husband and when her boss and a gun are involved I can only imagine she's going to kill Angelo by accident. If not Angelo, someone is going to be laid to waste because of Regina's tight-lipped behavior. It's not cool to keep that kind of thing to yourself and it's a relationship killer, whether with your husband, daughter or family.
It doesn't seem the poor decisions are going to stop any time soon, and it's kind of funny that the two people making the best decisions were once unreliable -- John and Angelo. Here's hoping the ladies in their lives find it in themselves to stop keeping secrets and making decisions as if they are living in a vacuum.
Are you happy with the direction of Matthew's story?
Carissa Pavlica is the managing editor and a staff writer for TV Fanatic. Follow her on Twitter.