Family was at the heart of Switched at Birth Season 3 Episode 14 - and, for once, it was all good news.
It's kind of funny how we can get so used to drama that we forget how lovely it can be to caught up in family without it.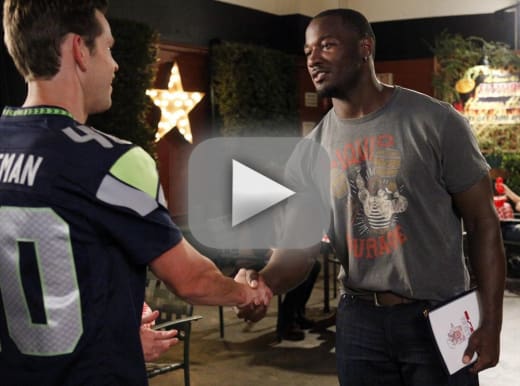 Since his picture is up there, let's talk about Travis first. It's been a while since we've seen Mary Beth and I'm happy to report the couple is still doing well. That's nice, right?
When Travis' brother failed to get him tickets to see his football hero as promised, Mary Beth hit the guys Twitter account and discovered he'd be at their favorite barbeque place. While they waited, Mary Beth tried to engage Travis in a discussion about his mother. It didn't go over so well.
For now, Mary Beth, Melody and Emmett are the only family Travis needs. Travis was completely unaware, but when Melody was looking for a job outside the state, her concern was for both of her boys. They truly are family. Travis got a little upset when his hero didn't show up, but as they left the restaurant, he was walking in.
Travis lit up with glee and recommended a dish to him. "Go hot or go home!" he signed, then asked Mary Beth if he really just said that. He did indeed. Treating people you admire as human beings is the best gift you can give to them.
When Bay overheard Melody on a call about moving to Wisconsin for a job, her first concern was that Emmett didn't move away. With only months until graduation, certainly he'll be welcome at his dad's house, right?
Cameron and his girlfriend Debbie were throwing a housewarming party. Bay and Emmett were there and Bay was pushing the father/son aspect of their lives to grease the wheel. Melody's date, Gabe, took her along as a plus one. Surprise! It was a wedding! And a new baby is on the way. 
While things could have gone downhill, Bay talked Emmett into calling his dad to talk things over. They're going to be fine. Melody isn't taking the job, she has plenty to keep her in town.
The scene when Emmett and Melody were going through his old box of toys in anticipation of giving them to his new baby brother was perfect. Even though he had agreed to give some away, others were still off limits. I could grasp the gist of the conversation, but if you read sign language, I'd love to know what else they were talking about. It looked like such a beautiful mother/son moment.
Kathyrn and John got wind of Daphne's worries over paying for college and medical school from Bay. They offered to pay and Regina turned them down. She gave a song and dance about her child not taking things for granted, but at the heart of it she felt badly she couldn't provide for Daphne. She eventually agreed it was their best option, but not before going through some trials.
Daphne decided to apply for scholarships and Regina encouraged her to apply not only for scholarship for the deaf, but for Latinas, as well. There was a heated discussion about what make someone Latina. Heritage or family? It's not something they'll conclude on Switched at Birth any more than they'll finish the discussion about hearing implants, but it was a nice tool to give to many people who must live with that conundrum every day.
"Oh, Future" was a solid and pleasant entry for the season. It looks like we're heading back to drama again very quickly, so enjoy the memories while you can! You can always see it again when you watch Switched at Birth online.
Do you think Daphne should apply for Latina scholarships?
Carissa Pavlica is the managing editor and a staff writer for TV Fanatic. She's a member of the Broadcast Television Journalists Association (BTJA), enjoys mentoring writers, wine, and passionately discussing the nuances of television. Follow her on Twitter and email her here at TV Fanatic.