Teen Wolf Creator Teases Big Bads, New Romance and Fresh Season 4 Faces
Jim Halterman at .
Hold on to your seats.
When Teen Wolf Season 4 kicks off tonight, don't expect Scott, Stiles, Lydia, Kira and Malia to be hanging out in Beacon Hills.
Instead, they're in Mexico - and while you'll eventually figure out why they're south of the border, don't expect things to slow down on this thrilling MTV series.
Late last week, Arden Cho gave us her perspective on the new season and on the same set visit we also made sure to grab some time with series creator Jeff Davis to talk a different kind of big bad this year, the love lives of our characters and some of the new faces that we'll see on the episodes to come...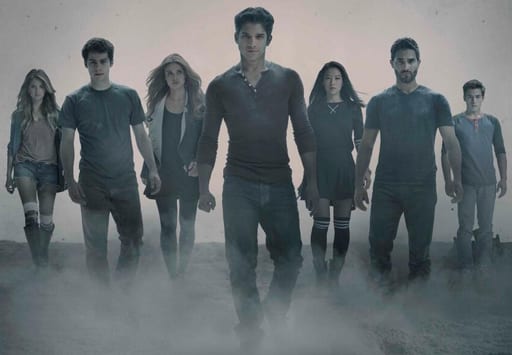 TV Fanatic: So, the first episode back, it's jarring to see that we are suddenly in Mexico.
Jeff Davis: What we wanted to do was take them out of Beacon Hills. We wanted to open up the world a little, make it a little adventurous, start them out in a completely different area and it's fun because the audience has to catch up. The audience says, 'Where the hell are they? What's happening?'
This was our sort of Indiana Jones type way back into this season and a way to show how, after two months, Scott and his pack have been together, they've been helping Malia, they've been training her a little and they're working as a team. We really wanted to show how they really work as a team. It's almost a super hero story really.
TVF: From what I've seen of the new season, it doesn't seem that the big bad is grounded in the supernatural side of things as we've seen in the past.
JD: Right. He's not supernatural. I had an idea back around Christmas, I was with my family. We were reminiscing about how my mother, a single mother, raised three boys, working two jobs and how it was very difficult. We never realized actually how poor we were. As kids you are pretty blinded to it.
I thought wouldn't it be interesting to get our Beacon Hills kids back to very human struggles? Show how a town is hit with a bad economy and how medical bills can pile up and how we can do almost The Treasure of Sierra Madre-type story where, what if there is a temptation to money? What if we did a season bounty hunters and professional killers and assassins? Instead of doing a whole big mythology and a new supernatural creature to discuss and theorize about, we just make it really human.
So, that's basically the theme of this season. One of our overarching themes is, not all monsters do monstrous things and what we find out is that many humans do monstrous things.
TVF: In terms of relationships, Scott and Kira are kind of hovering around each other as are Stiles and Malia. Are we going to see a more mature side of those relationships?
JD: Absolutely, we're going to find them trying to define their relationships actually. Scott and Kira don't quite know where they are at the beginning of this season. Stiles and Malia shared an experience at Eichen House, they don't know where they are either. We delve into that pretty fast. It's fun to see these relationships evolve while all this supernatural goings on are occurring in town.
TVF: Where do we find the Hale brothers in the new season?
JD: That's actually answered in the end of episode two. The Hale family has a big problem after the end of episode two. It affects everyone. I think we're really excited about what we've come up with for Derek and Peter this season and how they figure into the main plot. It's going to be fun to see how they grow and evolve.
TVF: You're bringing in new characters at the start of the season like Liam and a few others. How do you approach bringing new characters into this world?
JD: A lot of it's to do with casting to see if they're going to have chemistry with our characters. But a lot of it has to do with wanting to bring in new relationships. What I like about bringing in new characters is that it allows you to see a new side to our main characters.
They always come in as foils in a way to our main characters. It's not any sort of replacing of the main characters, which I know fans worry about all the time that it's going to take away screen time, but it's about seeing new relationships.
I was very focused on giving Stiles and Scott a kind of little brother this season and that's who Liam is. So, it's going to be fun to see that relationship grow. He's a pain in the ass. He's a little like Jackson at first but we find out he has difficulties and sides to him that are very different. He's a cocky, arrogant, little kid, but we show very quickly that he has a lot of depth to him as well and some issues. So, it will be fun to play.
TVF: I know a lot of people are still going to miss Allison. Is her memory still present with everyone in the new season?
JD: Very much. She leaves kind of a shadow on all that goes on. One character who is deeply affected by it is Lydia. She lost her best friend. Lydia is one who steps back from romance. I think she needs a little time on her own. I find Lydia to be a strong character, especially with her own sexuality and to see her step away from it a little, I think, is interesting.
TVF: We're going to see more of Ryan Kelley this season, too, which is great.
JD: It's funny because Ryan was a friend of mine well before he was on the show. I had auditioned him twice for the show. He actually auditioned to be Isaac, but Ryan Kelley is in that position where, he's not quite a boy anymore, not quite a man.
When I came up with this character of Deputy Parrish, I thought, you know this could be just right for Ryan because it's a 20-something, young looking guy. He fits quite a bit into this season. His relationship with Stilinski is growing. His relationship with our main characters actually is growing too as he gets more and more involved in the supernatural aspect. Ryan is a great actor and it's nice to see him now growing into a man.
TVF: I remember last year you wanting to challenge your actors so how would you say you're challenging yourself and your actors this year in ways that you didn't before?
JD: The challenge, I think, was to lighten things up a little. We went really dark and I think it's actually easier to go dark in heavy drama than it is to keep things adventurous and fun. What we love to do on this show is play around with genres. The first episode is a kind of romantic adventure, the third episode is very much a horror movie and that's one of the most fun things about writing this kind of show is we don't stay in one genre. We get to do different things. 
Teen Wolf Season 4 Episode 1 airs  at 10/9c on MTV.
Jim Halterman is the West Coast Editor of TV Fanatic and the owner of JimHalterman.com. Follow him on Twitter.