Devious Maids Finale Preview: Mark Deklin on Nick's "Mea Culpa," Flashbacks To Come
Jim Halterman at . Comments
It's time for Nick to get his comeuppance.
Now that his deep, dark secrets are coming out, what will be his fate on Devious Maids Season 2 Episode 13?
Not only is Marisol going to probably rethink her relationship with Nick but what about the Powells, who lost their son because of Nick?
Who better to get a preview of this Sunday's finale than from Mark Deklin, who told TV Fanatic about whether what we'll see will involve flashbacks and how viewers will feel about him after what we find out in the finale.
Also, will we see more of Nick in Season 3? That actually could be up to you Devious Maids fanatics! Read on...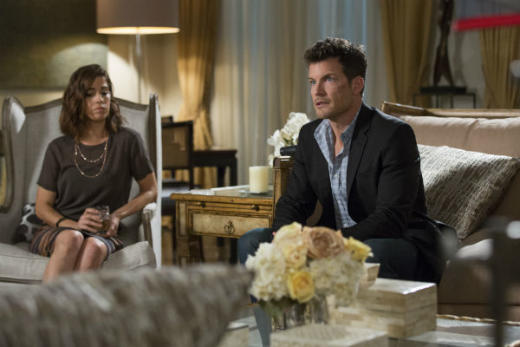 TV Fanatic: Now that all these secrets are finally coming out about Nick I'm guessing you're just as happy as everybody else. Is that what we'll see in the finale?
Mark Deklin: Yeah, at this point everybody knows that there's probably some mea culpa that's coming for Nicholas and all the skeletons of his past are finally going to be wrapping their bony arms around him. So I'm happy in this sense.
I know that one of the things that I had to find for this character is, as an actor, you have to suspend judgment and you have to find what's human about this person. So one of the things I really latched onto is that Nick is trying desperately to be a good guy. Despite his horrible past he wants to be a good guy. He loves Marisol madly and he's trying really hard to be a good husband to her but it's never going to work.
As long as he's lying to her it's never going to work. So in a sense-and he's lying with what he thinks are good intentions. He thinks he's protecting her but you can't do that, you can't build a relationship on lies. So if there ever is to be any hope for the two of them the truth is going to have to come out. That's the positive side of this.
On the flip though, it may be that his truth is too much and it may destroy them. He may have to lose everything. So one of the things that I tried to look for as the season progressed I realized that Nick's story could be a story of redemption or at least an attempt at redemption. Here's a guy…I've made this analogy a couple times with other people if you'll forgive me but almost like Darth Vader.
Here's this just evil villain but as more and more of the films came out he took on story arc and eventually became this guy who right before he died rediscovered his soul. He got to become a human being again.
TVF: Will we see any flashbacks of what exactly happened in the past? Can you speak to that?
MD: I can because the reason that's not a spoiler is we all know the signature pieces of a Marc Cherry show and so much of the story had been told through flashbacks anyway. So I think it won't be any surprise to anybody that there will be more flashbacks that will fill in more of the back-story. So we will be seeing more of my beloved Jo Adler, aka Opal, and we'll see more of Dahlia. We'll be seeing more of 1999 in general.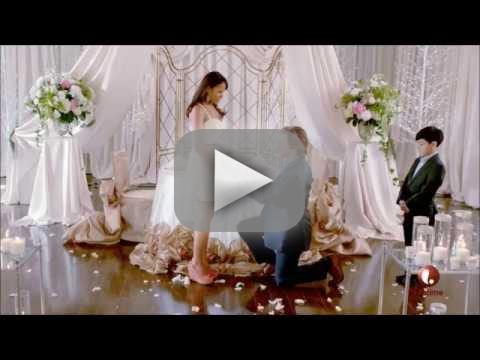 TVF: Up until this point, like you said, Nick has some dark things in his past and as a viewer we like him. Will the viewer's opinion of him change in this finale episode with what we find out or what we see?
MD: That is the question. That truly is the question. In fact Marc Cherry and I had a conversation about that where he admitted to me that, "When we conceived this character we didn't really conceive of an incredibly likable character but you brought something to it that we didn't foresee happening and the fans have really taken a liking to you, which is wonderful."
So now we're left with this bit of a quandary, like what do we do with Nick's horrible back-story? So in a sense it really is left up to the fans. If people, when it's all said and done and the truth comes out, people are still willing to forgive Nick and give him a chance, then we may see more of him but if people turn on him then we may not. That may be the end of Nick and its okay either way. Those are the cards we've been dealt and I don't know the answer to the question because I think we'll get a mix.
I think there are people who will absolutely turn on him and say, "I can't forgive that." I think there are people who will be the exact opposite and say, "I don't care. I think he's great. I love him," and I think there will be a lot of people who will be somewhere in the middle who will say, "I'm struggling with this because what he did was awful but I see that he's not a monster. He's not malicious or malevolent. I see that it was just an accident and some bad choices etcetera, etcetera."
So I don't know…[there are] some people who've sent tweets saying, "I know what you did and I don't care. I forgive you," but then I got one the other day - which it was creepy but it made me laugh - it was literally in all caps in this threatening way that said, "Hey @MarkDeklin, I know what you did and you disgust me."
TVF: We know Marisol now knows what she knows or at least what she thinks she knows but  there's also the Powell's who lost a son a long time ago. I'm guessing that will be a part of the finale, as well?
MD: Perhaps.
TVF: If you were in the writer's room and assuming season three happens for you, who would you like to be having more scenes with that you didn't get to because a lot of your scenes were with them?
MD: I love all the Maids. I haven't worked with any of them, you know Ros, Dania, Judy, Edy or Susan Lucci, who I talk to in the makeup chair all the time. She couldn't be lovelier but we haven't had any scenes together. Drew Van Acker, he's a great stand up guy. I really liked him a lot but Remi and Nicholas have no reason to interact together.
I will say Rebecca Wisocky and I knew each other from back in New York…she and Tom Irwin, and Ana, and I and a few others, we would hang out. We would get dinner a lot when we were down in Atlanta and we formed a fun little circle and we would always lament that the Powell's and the Deering's didn't get more interaction. So yeah, obviously I'd love to, and we'll get a little taste of that on Sunday, but the two of them have created such a cool little niche for their characters.
TVF: I'm not a parent but I know a lot of parents and it does change priorities. I'm curious if that goes into your work at all. The choices you make as far as geography or the types of roles. Does it go into your thinking at this point at least?
MD: It's become this lens that I filter everything through, my whole life. Literally I'll get a paycheck and just mentally I don't even receive it as my money anymore. It's my family's money, my kids. You know what I mean? So in terms of my work, absolutely I've turned down work simply because of geography or no, I don't want to be in Romania for six months and not see my kids. That's not acceptable to me, especially at this age. When they're teenagers maybe I'll want to get away from them but at the age of 1 and a half and 4 and a half  I don't want to miss a thing.
So just even the factor with Devious Maids because of course the show shoots in Atlanta but we worked it out and the schedule's really so civilized. I never went longer than a week without seeing them, which meant that I was flying back and forth a lot….so, yeah, it's a huge factor.
The Devious Maids Season 2 finale airs Sunday at 10/9c on Lifetime. Follow Mark on Twitter @MarkDeklin.
Jim Halterman is the West Coast Editor of TV Fanatic and the owner of JimHalterman.com. Follow him on Twitter.