Devious Maids Review: Unhappily Ever After

Christina Tran at . Updated at .
WHAT?! I can't believe Marc Cherry, Eva Longoria, and the writers of Devious Maids are leaving us hanging like that.
I loved every bit of the Devious Season 2 finale.
There were flashbacks, an unforgettable confession, a lovely wedding and a shooting that left us with so many unanswered questions.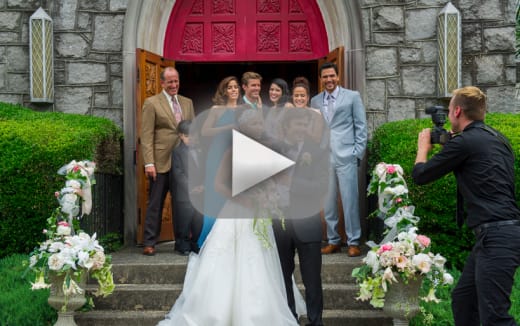 Basically, a whole lot happened on Devious Maids Season 2 Episode 13. So let's break it down!
First, Nick's confession, along with the flashbacks, were tragic and heartbreaking. I honestly felt so badly for the Powells, but also found myself feeling so sad for Nick. It was obvious how broken he felt all those years. However, as Evelyn said, his apology wasn't worth anything at all.
I can't help but wonder if Marisol will continue to stand by his side after he goes to the police. Also, I am betting finding out the truth about their son will bring the Powells closer than ever. 
Meanwhile, although Spence and Rosie spent practically this entire season apart, I was so glad that they decided to get married. Better yet, I loved that the girls and Miguel were a part of the proposal. Although Rosie had wedding jitters, I wholeheartedly believe the girls were right to relieve her of her nervousness.
It was a lovely wedding until Ty showed up. 
That's right. Things took a turn for the worst when Ty was left all to himself and still wanted to proceed with his plan to kill Valentina.Ty fired multiple times as the wedding party exited from the church. I imagine there will be many casualties and think Ty deserves to be caught and punished for what he did. It's a good thing that Carmen saw him, and I hope there were no fatalities. 
Speaking of Carmen, she met a handsome stranger who could potentially help her with her career. Carmen ended up sleeping with Sebastian, but found out that the talent director he knew of was also his wife. Trouble!
Elsewhere, I was initially sad when Zoila had to say goodbye to Javier. He made her so happy, but it's understandable she felt like she needed to give Pablo a second chance. Luckily, Zoila found out what a liar Pablo was and ran back to a very forgiving Javier.
By the way, I couldn't believe Pablo changed his mind about donating his kidney to Genevieve. Sure, it's his choice, but his wife and daughter worked for Genevieve for so long. I was surprised he backed out just because of what happened to Zoila.
What's going to happen to Genevieve? Is she going to be okay? I certainly hope so. 
Other Thoughts:
Adrian helped Valentina get an internship with a fashion designer in New York. Remi and Valentina seriously have the worst timing.
I can't believe Zoila found out that she is pregnant! Crazy! Like mother, like daughter - things are always complicated for both. 
Wait, Rosie just got married. Her wedding ends with a shooting, and then we find out that her first husband is still alive in Mexico. See, I told you a lot happened. 
Don't forget to check out our Devious Maids quotes section for some last laughs from this season. 
Overall, "Look Back in Anger" was action-packed with some very pivotal moments that will certainly having us hoping for a Devious Maids Season 3. There's still no word if the maids will be back next year, but I'm hoping so. There are still so many stories left untold. 
Grade the Devious Maids Season 2 Finale now!