A challenge at the arcade? A showdown of the minds? A secret meeting without Joe?
Just what are Gordon and Cameron up to in this exclusive photo from Halt and Catch Fire Season 1 Episode 8?
When they're finished knocking back Orange soda and finding victory at the arcade, Gordon and Cameron must be getting down to business. After all, their PC will soon be on shelves... but only if they can find some way to work together to get it done.
Look for a scandal to rock Cardiff Electric this Sunday night, just as the team finalizes preparations for COMDEX, and check out this exclusive photo from the upcoming installment now: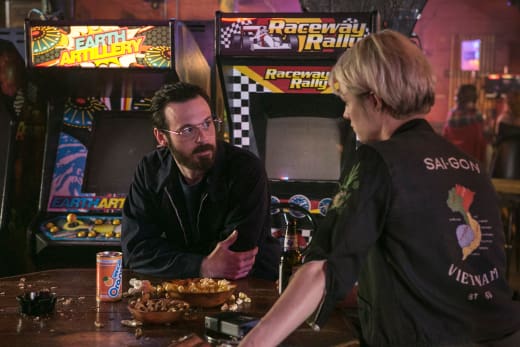 Halt and Catch Fire airs Sundays at 10/9c on AMC.
Matt Richenthal is the Editor in Chief of TV Fanatic. Follow him on Twitter and on Google+.