Now that Bill and Virginia have comfortably settled into their roles as "The Holdens" at the hotel, they can resume their focus on their actual careers.
Masters of Sex Season 2 Episode 2 marks the start of Bill's new job at Memorial Hospital, thanks largely in part to the pretzel king's money.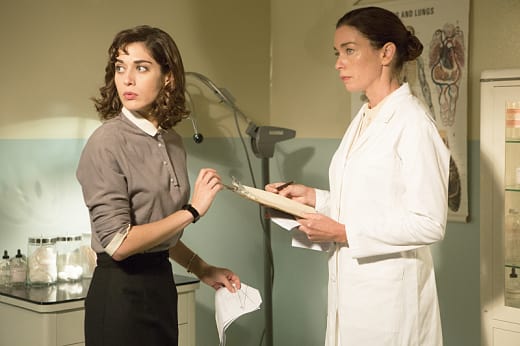 With the pretzel king's money came some strings attached, namely one: Bill has to help Betty get pregnant. Of course Betty knows that she's sterile, but she just can't break it to her husband, choosing to go along with the charade while rubbing it in that she basically has Bill by the balls at work.
We're done when I say we're done, unless you liked your study when you were peepin' through brothel doors, I'm sure the girls miss having you around, comic relief and all.

Betty
Bill's first day included a patient who was in shock and bleeding out due to a botched abortion. Rose, an 18-year-old with rich VIP parents, had secretly gotten a second abortion.
Rose's mother begged Bill to give Rose a hysterectomy after detailing what an uncontrollable sex drive her daughter has.
Dr. Greathouse, Bill's boss played by the Ax-Man from American Horror Story, tells Bill he has to do the procedure but Bill wouldn't comply. He thinks a hysterectomy at 18 is medically unnecessary and will ruin Rose's future.
Rose cries that she feels this hunger inside of her, that really just sounds to today's jaded viewer as someone with a sex addiction.
With books out like 50 Shades of Grey and people getting famous from sex tapes )cough hey Kim Kardashian cough) Rose's insatiable desire for sex just isn't that shocking for us. But the story is sad and the parents are rather appalling. Bill finds a fix with an IUD and assures her that she isn't defined by worst.
So despite Libby thinking Bill is cold and shut off, he really does have a heart in there somewhere! A heart that is just wrenching when he hears the real reason Barton has taken time off. Wouldn't you have had the same reaction?
Meanwhile, back at Virginia's work, she tries to find a way to leave and join Bill but is stalled when she realizes how bad Dr. DePaul's condition has gotten. Lillian is getting bruises she can't explain, jumbling her words and basically functioning less and less. Her oncologist confirms the worst.
Virginia attends Dr. Langham's random soiree where he comments that they are both kind of down and out and it's for the same reason.
We're lone wolves, driven from the pact by our refusal to conform.

Dr. Langham [to Virginia]
Bill and Virginia definitely deviate from the pact when it comes to their thinking. How about Langham's theory?
Are Virginia, Bill and Langham lone wolves or are they all just classic cheaters?