Every week I ask myself the same question: How can Karen have so much common sense about other people's lives... and such ridiculously poor judgement about her own?
I mean, that girl can't even remember her name…
Or should I say, the name she gave to her latest sexual conquest, Ben in Mistresses Season 2 Episode 6. The guy seems nice, funny in a self deprecating sort of a way, (What are the chances that we can pretend I didn't just squeal like a little girl?) and completely hot.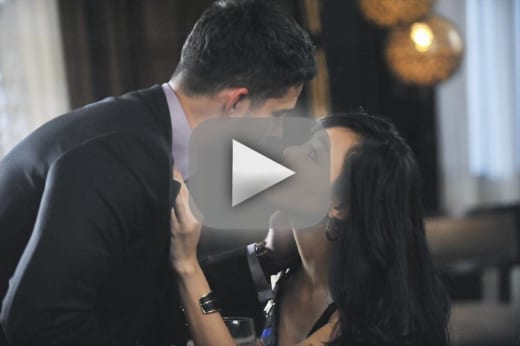 So when he asks her out on a real date, what does Karen do? Rips up his card. Sigh.
Honestly, would it have been so bad to come clean with the guy? The worst that could have happened was that he ran for the hills.
But the next minute she changes her mind and decides to stalk him back at the hotel bar where they met…only to run into Jacob. Is it just an odd coincidence or the way the Universe works? 
Once again, Joss turned out to be the go-to girl in this group. When Harry announced his plan to move back to Australia (And what the hell! That can't really be happening, right?) Joss manages to set aside her outrage and disappointment to be a real friend.
One small nit: is showing the guy a scrapbook that his cheating soon-to-be ex-wife made really the way to convince him to stay? And isn't it strange that Savi put all that work into a scrapbook of her husband but never showed it to him?
But back to Joss: I'm completely torn. Joss and Harry are BFFs. They make a great team and are completely adorable together. Part of me wants them to go there…but part of me doesn't. The whole sisters sharing the same guy thing is just a little too much.
Then there's Scott. Too cute for words Scott. Scott, who listens to Joss talk about her business and her family and helps polish the silver, and gives her high heeled charms. I really like Scott plus he follows along when Joss says things like in this Mistresses quote…
What am I supposed to do? Let him go back to Australia because the thing that brought him here slept with a coworker, got pregnant with his baby, nearly died and then, what, chose the other guy?

Joss
April's week wasn't what it could have been. That means there was no sexy painting with sexy, smoldering Daniel because he was in Vermont? LA? Hooking up with some unnamed red-head? 
Who knows? We'll have to wait to get those answers. Instead April was struggling to fit in with Lucy's new friends. 
I loved Lucy's reaction to her mom telling her she had to return the Gucci purse. So very real. Then icky Steven put the moves on April once again. This time with his wife in the next room! I don't know what was more offensive. That or him sticking his fingers in her chocolate sauce? Not only is he sleazy, he has no table manners. 
Now, what do you think? Did Samantha really stop by to apologize to April, or to rub her nose in the fact that her gorgeous boyfriend is probably cheating on her?
Finally. we get to Savi. Oh, Savi. She's not quite the mess that Karen is but she certainly wins the runner up prize. 
I get the being sad over the divorce. As Joss said, 
Oh, honey. Your love for Dom has nothing to do with your feelings for Harry.

Joss
And how could you not love Dom's plan for their future? Find a place to live that they both love, get married, take a spectacular trip together and then have a baby. It's incredibly romantic if you leave out the part that he first came up with it while she was still very much married to Harry.
The look on Dom's face when he saw Savi hugging Zack was devastating. You could almost hear the dialogue in his head that reminded him that she cheated on Harry with him... could she be cheating on him with this guy?
Keeping Zack from Dom has been a huge mistake from the beginning. If Savi wants to have a baby with Dom, she needs to trust him and if she doesn't she needs to figure that out before she gets pregnant once again. 
Now it's your turn, TV Fanatics. What do you want to see in Harry's future?
C. Orlando is a TV Fanatic Staff Writer. Follow her on Twitter.