What does it say about you when your therapist has to pour himself a scotch during one of your sessions?
It says you're Dr. Karen Kim, the ridiculously messed up gift that keeps on giving on Mistresses Season 2 Episode 8. Just watching her made me want to ask that man to pour me one too.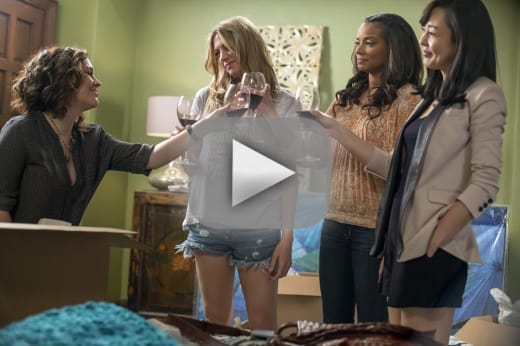 So Karen realizes that her suicidal hooker/patient is actually Jacob's ex-girlfriend. Does she discuss this debacle with him like a rational human being, especially since he's a doctor too and can understand the ethical dilemma? Heck no!
This is Karen. She makes up some lie about her therapist saying she shouldn't date for a year and ditches Jacob over lunch. 
Which let me just say is still better than what Jacob did to Anna. Breaking up over the phone and telling her she's too young for him? Dude, that's just lame. 
The moment Jacob mentioned that he thought Anna lived in Karen's building I knew there would be trouble…but Karen was clueless. Instead, she decided that a quick smooch in a public elevator was the way to go. 
Now we wait until next week to find out if Anna is suicidal or psychotic - or both. 
April had me banging my head on the table. If I did that every time I felt like it while watching Karen I'd have to stop watching the show or risk giving myself a concussion…but back to April. 
Honestly, despite his amazing abs, I wanted to smack Daniel when he gave her the, my marriage is over line. But April was still mesmerized by Sexy, Smoldering until she had to look into her daughter's eyes as the kid wondered how Peyton's daddy and some trampy other woman could hurt Peyton's mommy like that. 
Thankfully, that seem to slap April out of her lust induced, morally ambiguous haze…but will it last? Does anyone think that this is the last we'll see of Daniel?
Elsewhere, taut, tan Toni was sharpening her claws and purring for both Savi and Dom but Savi wasn't buying the whole, let's bury the hatchet and be friends routine as she made clear in this Mistresses quote…
One, get your ass off my case files. Two, in order to be friends I would have to trust you and I will never, ever trust you.

Savi
It was great to see Savi get some of her spunk back. We really haven't seen any of it since before the car accident. 
But Toni was definitely working both ends as she played the friend card on Dom, who didn't tell her to get her ass off of anything. Damn. That doesn't bode well for Dom and Savi. First because I think Toni's working them so she can cause trouble and grab Dom's corner office. Second, because she wouldn't mind slinking her way into Dom's bed…or more likely the top of his desk. 
Finally we get to Joss and Damn it Scott! Admitting that he was jealous of Harry was like waving a magic wand in front of Joss. She'd been totally immune to the hot Aussie all of this time but now that Scott has gone and pointed it out, it's all she's going to see. 
I hope she gets over it. I like her and Scott. He even got rid of all of the other shoes in his closet except for the ones in her size. If that's not love I don't know what is?
OK, TV Fanatics. Mistresses now has a plethora of hot men to be ogled over. Who is your favorite?
C. Orlando is a TV Fanatic Staff Writer. Follow her on Twitter.