Ray's definitely getting involved with Kate McPherson.
At least that's what I'm going to assume given the events of Ray Donovan Season 2 Episode 3.
Whether Ray goes full on affair with Kate or not, they have a very hot connection. She's also a Boston girl who likes to swill back a few beers. Somewhere along the way, Abby lost her connection to that side of herself in her desire to be someone from Hollywood.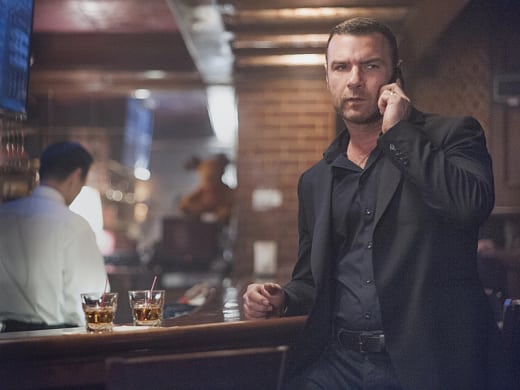 With Ray's marriage falling apart due to miscommunication, conflicting desires, identity crises for both Ray and Abby and everything that happened with Mickey hanging over there heads, there couldn't be a worse time for Ray to meet someone like Kate.
Ray needs to be reminded of the woman who told off the potential new neighbor when Abby was house hunting. Don't you think that's the woman Ray loves? Tough, proud of her heritage and not taking shit from anybody.
Right now they're ignorant of the people they're married to and it's a shame. Lies tear people apart, but not any more than silence. There's too much silence between Ray and Abby. Ray isn't going to be able to stay away from Kate while she's digging into Mickey's life. On the plus side, I don't think Ray would let anything happen to her because she knows too much and is too good at putting the pieces together.
Is Mickey for real? That crying jag he had with the terminal guy in his apartment building after he removed his ankle bracelet -- was that real? Mickey is so good at snowing people I can't even tell when we're supposed to be snowed anymore.
He managed to get on the right side of his parole officer, especially after the dude caught wind of Claudette. What else is the FBI investigating without Ray's knowledge? Ed acts like everything is cool, but he's clearly got people investigating the story for holes. It seems like nothing with this arrangement is going to go as planned.
It's always fun seeing Stu Feldman. From his broken penis to his tryst with a porn star, getting booted in the face by her husband for dropping the camera and partnering up with Lexie Steel and her hubby Ricky -- every moment with his is a hoot.
When Stu dropped the camera, Lexie just turned off her "character" looked back at her husband and said, "Camera down," and I expected Stu to get it; instead he didn't hesitate. He kept pounding away like he was living out a dream. Can you imagine having reached the status that your ego would completely ignore warning signs like that?
It's hard to believe that tool is the biggest producer in Hollywood, but maybe that's the point. Ray started out asking Stu for a favor for Bridget with Belair Academy, got tangled up in the porn biz and ended up taking Ricky down because he kidnapped his client. There is never a dull moment with Ray Donovan. 
I could be wrong, but I think with Abby trying to set parameters to their relationship and wanting a new home, a new life for them, essentially, she'll be unknowingly jeopardizing her marriage. It's not as if Ray needs much prodding to stray. He wants to fix himself, but he can't seem to figure out how to do it. 
Do you think Ray can fix himself?
Carissa Pavlica is the managing editor and a staff writer for TV Fanatic. She's a member of the Broadcast Television Journalists Association (BTJA), enjoys mentoring writers, wine, and passionately discussing the nuances of television. Follow her on Twitter and email her here at TV Fanatic.