Magic Mary. That's what Isaac calls her during Salem Season 1 Episode 12, but she seems fairly innocuous for most of the installment.
It's becoming increasingly difficult to understand Mary's motivations for the Grand Rite. The only thing she really wants is Alden and the series has allowed her other desires to remain very murky. She certainly can't want to end up like the cauldron witches: blistered and without select senses.
At one point, Mercy tells her acolytes that Mary has a vision of the Salem. Other than "death," exactly what is this vision? A powerful witch who needs the inspiration of simpleton Isaac to persuade her to do what she wishes rather than what others expect of her needs to take a good hard look at herself.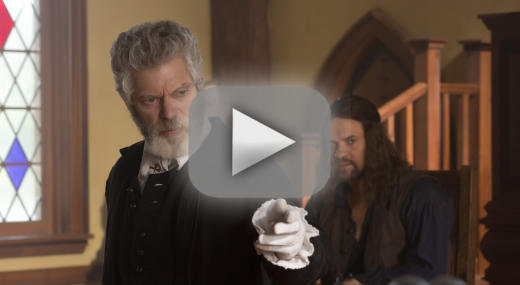 Increase moved on this week with Alden's trial and tortured Mercy's girls and ultimately killed them. Along the way, he outed Alden's big sin -- killing militia men who massacred the women and children of the wrong Indian tribe -- the tribe that saved him from certain death.
When Alden was left for dead, a group of Indians rescued him and nursed him back to health. They weren't his enemy, but they weren't his friends, either. They were the enemy of his enemy and that was good enough for Alden. He lived with them and fought along side them. When the militia massacred their women and children, he took revenge upon the militia as if the wrong was done to him. He wanted to make sure someone paid for failing to notice their real enemy.
Alden is a good man and he holds himself accountable for treason. He doesn't mind being hung. He's tired of the lies and of living without Mary. Seeing the girls hanging above him didn't help matters, but I'll note it was nice of them not to lose their bladders while he was being held below. As their feet were swinging above him, I was awaiting that added humiliation. Thanks to the writers for sparing us that.
Increase managed to spin everything about Alden as evidence of being the leader of the coven. He conveniently made sure Alden would be hung regardless of whether he was found guilty. He also managed to convince Cotton -- who was with Alden when he had the Malum and as they questioned Rose -- that Alden might have had it for nefarious purposes.
Even Anne turned on Alden, the man she once adored, when Increase pointed the spotlight on her during the trial. She knows enough about herself to cast the light on anyone other than herself.  When the rubber meets the road, on what side will she fall?
Am I the only one who didn't like Cotton questioning the one certainty he had -- his friendship with Alden? Alden pushed Cotton to think about whether he was seeing things in black and white, but it was also kind of sad to think that even shades-of-gray Alden hadn't seen the true connection of friendship he's forged with with Cotton.
To me, the bond between Cotton and Alden is above anything between Mary and Alden. I want that explored with more urgency than the silly love that might remain between the Alden and his witch. Honestly, the series hasn't done a great job of making me care about the romance. Am I alone?
There are a lot of balls in the air for the finale: 
Mercy wants to displace Mary as Queen of the night. Who can blame her after the way Mary turned on her?
We haven't seen Tituba since she gave up Alden to Increase. Will she make an appearance?
Mary has whisked Alden from his cell to the woods and he'll be aware of her extracurricular activities. Will knowing she's a witch help or hurt his cause?
What on earth will Anne be up to? Do you think she was unaware of her change when Cotton was feeling her up looking for a familiar's nipple? Certainly a witch would know when she was sporting a forked tongue, right?
Will Mary want to move forward with the Grand Rite or will she decide to stand beside Alden?
If Alden is gone, will Cotton be able to align himself with their friendship, or will he fall back into step with his father?
Will Mary take her leave so that Mercy can claim her seat? Dare she?
This definitely wasn't my favorite episode of the season and I'm about done seeing Mercy dig through the pit of dead bodies. As much as I've enjoyed what Increase brought to Salem, it wouldn't surprise me if Mary or the coven realized that the ultimate innocent to be sacrificed should be the one who aims right at their core; not Mary's heart, but the center of it all by destroying the witches.
Only Cotton has been intelligent enough to discern the Malum is an object and by the end of the hour, he had allowed his father's sentiments to sway him away from his own declaration. Certainly, there is a lot of material to cover and even more to justify the early renewal for Season 2.
Will Increase survive the finale of Salem?
Carissa Pavlica is the managing editor and a staff writer for TV Fanatic. Follow her on Twitter.