On Suits this week, the truth hurt for Mike. Literally.
Not only did he get his heart broken, his brawl with Logan almost broke his face, too.
And that's only part of what made it great and difficult to watch Suits Season 4 Episode 7.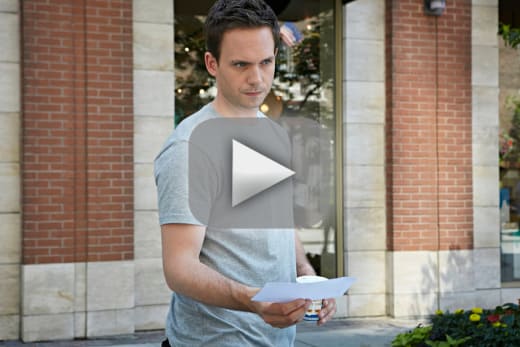 Mike was on a downward spiral. But, for a moment, it seemed bearable. At the very least he was able to reach out to someone he knew had to start from the bottom and build back up. I was really liking the optimistic vibe he was rocking after that conversation. I mean, he even rebuffed Forstman's cool $1 million offer.
And then the inevitable bomb dropped. The pep in Mike's step was quickly quelled by the truth that Rachel shared a kiss with Logan. Everything went downhill from there... for everyone.
Donna warned Rachel that telling Mike was the biggest risk she could take right now. In the long run, it was probably her best option. But I'll be darned if it didn't hurt so bad to watch her fall apart and watch Mike walk out the door. Luckily, each had some place to go in the immediate aftermath - even if Mike did make a pit-stop at Logan's to deck him.
We all knew Donna would do everything in her power to be in Rachel's corner, but I have to say I really liked watching Harvey step up, which he did in more ways than one. Not only did he encourage Mike to go home, he also dropped Logan as a client.
How is that for protecting your own, even if they aren't under your roof at the time?
What's brilliant about it is that ultimately Mike does end up back under the Pearson Specter roof - but it's not Harvey that hires him back, it's Louis.
Louis is struggling with the deal he made in Suits Season 4 Episode 6. And while he tries initially to get his name on the door, in light of the conversation he has with Rachel in the midst of her turmoil with Mike, he comes up with the brilliant idea to use this ask for a few things that will help him rebuild his relationship with Sheila.
I was rooting for that all the way. I desperately want to see Louis happy and this was the best chance he had. But when he used this opportunity to save Mike from entrenching himself deeper in Forstman's web, I couldn't help but be proud and saddened at the action.
By using his reward on Mike, he continued to punish himself for the mess he got himself into with Forstman for the deal, while keeping Mike out of more trouble.
That was truly the hero move he was looking to make the entire installment, especially since it sacrificed what clear chance he could have had with Sheila. If Harvey and Jessica knew that, Louis would totally have Rosh Hashanah in the bag.
So, Suitors, should Louis have used his reward on Mike?
C. Charles is a TV Fanatic Staff Writer. Follow her on Twitter.