The Real Housewives of New York City Review: Blow Out Your Candles, B*tch!

Christine Orlando at . Updated at .
Carole turned 50 on The Real Housewives of New York City Season 6 Episode 19, tasking Heather with throwing her a blowout party.
We recap the the antique lace and dead butterflies in our +/- review...
Carole had a few small requests for her birthday bash: A Midnight in the Garden of Good and Evil theme, replete with 1000 white lights, 5000 white rose petals, chandeliers from her apartment, live butterflies as centerpieces, polished apples, headless mannequins, a snake handler, a psychic, a fog machine, antique lace and a harvest moon in the trees.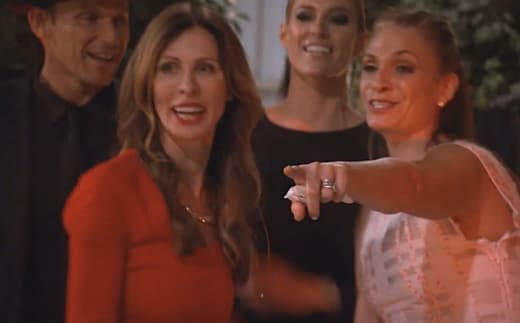 Who knew diva was the new 50? 
Seriously though, was she going to count all 5000 rose petals? And we'd like to say no butterflies were harmed in the making of this party but we can't. Several appeared dead on camera. Minus 33.
The snake should consider himself lucky he got out alive. 
Just as the party began, Heather realized she hadn't ordered any water for the bar. Perhaps that explains the drunken singing later that evening. For once I have to agree with Ramona Singer. It was lame. Minus 15.
There was a lot going on at this party. Harry got down on one knee…and offered Sonja a promise ring. Seriously? What is he, 14? Minus 14.
Sonja's hoping for a commitment from her once upon a time boyfriend and current lover who once cheated on her and I have no doubt that Harry's committed. Tonight. Tomorrow morning might be a different story. 
But wait, even tonight might be in question as he seemingly ditches Sonja and leaves with a newly single LuAnn. Minus 28. WTH?!?
So much for puppies and promise rings. 
Minus 20 to Sonja for making LuAnn and Jacques' breakup all about her. It sounded like her psychic friend had planted the seed in her head that her friendship with LuAnn was doomed.
And should Sonja really be wasting money on psychics? Perhaps she should be shopping for a financial advisor instead of a spiritual one. 
Before the party, Kristen and Josh headed to therapy. Plus 55. They definitely need it and with two little kids at home we'll throw in an extra plus 22 in the hopes that it works. 
Although someone may want to mention to Josh that wearing his EBoost logo clothing on air when he sounds like an arrogant, selfish ass probably isn't going to boost sales. 
I'd give points to Ramona for sending daughter Avery off to college but I've watched one too many Housewives send her kid off to college on these shows. I'm all cried out. Sorry Ramona. 
But back to the party. At least Carole didn't invite Aviva. "Hell no. I  didn't invite Aviva. I'll invite her to my next party. Midnight in the Garden of Evil and Evil." Plus 70!
Carole's 50 (and don't call it the new 30. We hear she hates that.) She feels sexy and empowered and she obviously loves her own ass.
Episode total = +37!                                    Season total = -515!
What do you think TV Fanatics, is Harry really committed to having monogamous relationship with Sonja?
C. Orlando is a TV Fanatic Staff Writer. Follow her on Twitter.