On the True Blood Season 7 Episode 3 Round Table, participants chat about their favorite scene, pen a eulogy for Alcide, discuss the merits of Lettie Mae, Sarah Newlin and the flirtation between Lafayette and James.
Join in the conversation with TV Fanatics Carissa Pavlica, Chris O'Hara and Leigh Raines by hitting the comments with your thoughts!
-------------------------------------------------------
What was your favorite scene or quote from the episode?
Carissa: Alright. I had some trouble deciding on my favorite quote because there were many, but Violet pounding into Jason that she thought he was acting like a girl when all she wanted was his manliness and iron-forged cock made me howl with laughter instead of pain.
Chris: I am with Leigh, the hair was bigger but the Eric and Pam were like peas and carrots as always.
Leigh: Probably Eric and Pam in the 80s talking to Nan Flanagan. It was the epitome of the classic Northman attitude. Plus the fashion just slayed it. Hello Miami Vice pants.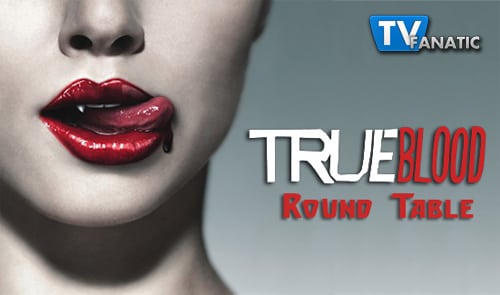 Pen a eulogy for Alcide.
Carissa: Long live Alcide Hevreaux, the only real man in Bon Temps.
Chris: Ran with the big dogs as the leader of the pack.
Was hooked on Sookie like Rob Ford on crack.
Shirts he abhorred.
His abs we adored.
But howling at the moon won't bring him back.
Leigh: You really want me to try and top what Chris just did!??
Is Tara's mother actually more annoying than Tara?
Carissa: She always has been. I can only hope that there is a spectacular end (a giant fireball perhaps) to all of the annoying characters they've decided to keep around while offing those we really care about. I understand Alcide had to go to make way for the ridiculous end-game of Sookie and Bill, but examining Lettie Mae and her lifetime's worth of problems doesn't even remotely qualify for fodder for the final 10 episodes.
Chris: Is this even debatable? I know the story the good reverend told Willa was supposed to be touching, but I just felt bad for the guy that she was his salvation. And now because she can't get her proverbial sh-t together, he asked the one person who could save him, Willa, to leave.
Leigh: I have abhorred Lettie Mae since I met her. The only character I've probably hated more was Lorena.
Which do you care about less, Lafayette and James flirting or anything at all the reverend says?
Carissa: At least I understand why the actor left who originally played James. Great -- he's dropping the hottest baby vamp in town for the drug-addled dude who was kept alive only to become comic relief. Their story is about as relative to the overarching plot as that of Lettie Mae (and she who comes next).
Chris: Continuing on my answer from the previous question, I say the rev. The scenes with James and Lafa were a little out of place, given what was going on in their world, but maybe that was the point. While everyone was facing reality head on, they were looking to set adrift on a pharmaceutical pleasure cruise. I won't ever be mad at a scene where we get to see Lafa dance and I actually have to tip my cap to him for figuring out a way to get James high on pills with him.
Leigh: I think the Rev was having some amnesia because if I recall correctly Lettie Mae homewrecked her way into his family a few seasons ago. Didn't Tara catch them on the couch?
Sarah Newlin is back: Yay or Who Cares?
Carissa: Bringing her back at the expense of others is, again, why the series is ending. They do not have their dramatic priorities straight. The Guru crap was so embarrassing. So Sarah licked a beer bottle in Jason's dreams, there's no reason to cater to fan-boys every whim. She can join Lettie Mae in the spectacular fireball. These characters who should be sidelined for the bigger picture are making the final season groan worthy and, perhaps, obsolete. Did my series end when Eric went up in flames, nekkid? Uh huh.
Chris: I could watch Anna Camp do yoga all day, so Namas-Yay, but also because news that she was still alive got Eric to finally put his game face back on.
Leigh: Love me some Anna Camp! Awesome opening. The bitch is back. Plus she's apparently the only thing that got Eric back on his feet.
Carissa Pavlica is the managing editor and a staff writer and critic for TV Fanatic. She's a member of the Critic's Choice Association, enjoys mentoring writers, conversing with cats, and passionately discussing the nuances of television and film with anyone who will listen. Follow her on Twitter and email her here at TV Fanatic.