Is it possible for Jamal to avoid making the same mistakes of his father? Only with Bassam's help. 
Before his brother showed up, Jamal was a reckless and reactive man. He was not well-suited for the presidency at all, but with Bassam's guidance, he's tempered his actions at least when it comes to running the country. In his personal life, he's still savage.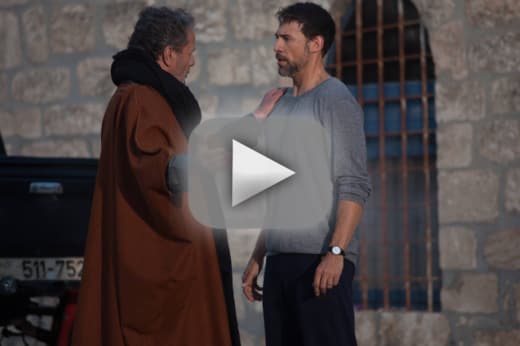 On Tyrant Season 1 Episode 5, Jamal gave Bassam leeway to negotiate a peaceful end to the plaza protests, but when Nusrat wanted a divorce he shot the girl's father. In the first situation, Jamal was acting out of fear put deep in his mind. He didn't want to end up dead like Gaddafi. 
It was mesmerizing to witness Jamal's obsession with the Gaddafi video. It motivated Jamal into trying a different way suggested by Bassam, only he was kept in the dark of his brother's real plan. Smart? Probably. Jamal would not have understood Bassam's decision to reach out to the exiled Sheik.
Will Bassam's plan work? In the long run, it's a big risk. Ihab Rassid has his own agenda and quest for power, which makes him an ineffective negotiation partner. His father, the Sheik, is someone who has the ear of the people and able to see the bigger picture. It's going to be a difficult path forward.
I was emotionally moved by the Sheik's entrance into the plaza. The stunned silence of the protestors demonstrated their awe over the situation. The exiled Sheik, their beloved leader, returned to help their cause. The most touching moment of the series happened when the father put his hands on Ihab's head. That was the beginning of a new change for Abuddin.            
Jamal's not used to being forced to do anything. In this case, he was tricked by his brother and the Sheik demanded a face-to-face meeting. The President has been put into unfamiliar territory and a place that's not comfortable for him. Despite being played, Jamal didn't react by allowing his uncle to clear the plaza, instead he ordered the forces pull back.
Could Jamal be changing? I'm not sure, but at least for now, Abbudin is in a better place. What happens next could easily determine whether the Al-Fayeed family remains in power or if a people's revolution escalates. With the Sheik back in the country, he will either ease tensions or cause them to escalate. The power has begun to shift.
Separate from the political maneuvers that were happening, Molly began to get a better feel for the country and the plight of the people through her maid's life. Molly's decision to go out and examine her maid's brother took fortitude and strength I wasn't sure she had in her. 
When she told the paramedic that she was Molly Al-Fayeed, she finally understood the power of the family name. Whether that will help her support Barry more or not is unknown at this point. My guess is that she'll be an even better partner for him and advocate for Abuddin going forward.
"Hail Mary" provided a turning point for Jamal, the Al-Fayeeds, and the people of Abuddin.
Did Barry make the right decision approaching the Sheik?
Carla Day is a staff writer for TV Fanatic. Follow her on Twitter and on Google+.