When Big Jim sacrificed himself for his son, he changed. On Under the Dome Season 2 Episode 2, this new Jim was calmer, more of a team player and more dangerous than ever. 
The episode title "Infestation" most clearly referred to the monarchs overtaking the fields, but it also represented Jim's continued influence and control over the townspeople. In the past, Jim's evil deeds were secret, selfish and out of self-preservation.
He drew his sense of power through manipulation and control.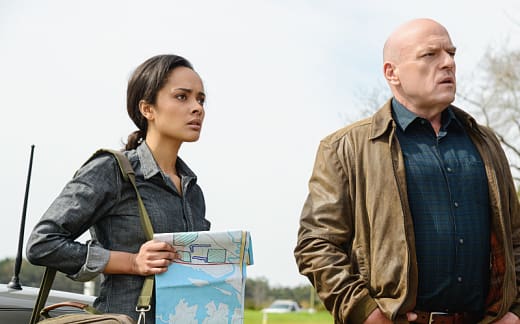 Now, there's a Cult of Jim atmosphere in the town, which feeds his ego, wipes clean his past and provides him with more power than he ever had before. The townspeople's love for him is creepy and unearned. Rebecca is the worst in that regard, she acts like she's been brainwashed into supporting him and spreading the Gospel of Jim.
I never thought I could dislike Big Jim more than when he killed Dodee and others, but this new Jim paradigm makes her death and all the other people he killed meaningless. He got away with the murders and he's now stronger with more influence and power than ever. Ugh! He's downright frightening now that he's free from his past.
In Under the Dome  Season 2 Episode 1, I liked Rebecca and thought she'd be able to help provide answers about the Dome and work well with Barbie and others to help the town survive. She did do some of that by identifying the monarch infestation and providing the solutions to food problem, but she also has a darker side.
She's a Jim supporter (Boo!). Even worse, she dropped the bomb that the resources available to this closed society weren't enough to support the current resident level, which means some people will have to die. She didn't discuss rationing or coming up with other resources, instead death and killing was her answer. Isn't that what the Dome was against just last episode? It wanted the killing to end, right?
While I'm happy that the question of resources has finally been addressed, it's too late. This should have been an issue raised in Under the Dome Season 1. Now, it feels forced and the drastic measures unrealistic, though perhaps it will work out in the end. I'll wait and see before I dismiss this storyline entirely. The sinister feel promises that it could play out in an engaging and frightening manner.
We didn't get many answers in "Infestation." The mystery girl was accused of killing Angie and then exonerated, but her identity and purpose remain unknown. I'd like to see more insight provided into her existence sooner rather than later. Or if not who she is or where she came from, at least  a few more clues about why she showed up.
Not much happened during this hour, but it showcased Angie's murder and funeral, Jim's rise to a new power, and an overpopulation of monarchs. The Dome's existence and purpose continues to mystify.
Is this new Jim more dangerous?
Carla Day is a staff writer for TV Fanatic. Follow her on Twitter and on Google+.