Dance Moms Review: A Surrogate Maddie

Winston Rice at . Updated at .
With Maddie off in Los Angeles recreating her exceptional performance from Sia's "Chandelier" music video on The Ellen Show, the other girls got the rare chance to shine in her brief absence on Dance Moms Season 4 Episode 21.
Christi brought up a good question, though: Is Maddie really the best dancer because she's the most naturally talented... or is it because Abby took her under her wing, gave her the most attention and solos, and therefore allowed her to have the most experience?
It's probably a little bit of both. As much as Abby plays favorites with Maddie, she does do character performances better than the other girls. She's the most well rounded dancer at the ALDC, consistently able to tell stories through her emotive face and fluid lines.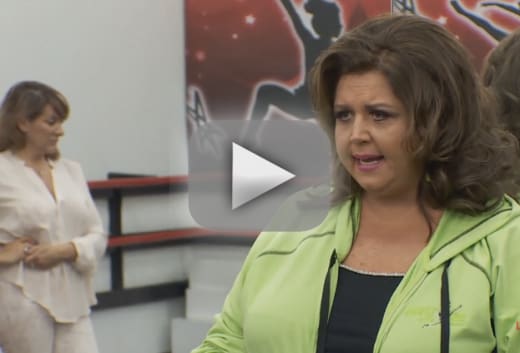 However, Abby, through the years, has repeatedly built up Maddie's confidence, while consistently tearing down others'. When every other word out of Abby's mouth has been "Maddie," it should come as no surprise she's become the most well known in the dance community.
Regardless of why or how, Maddie's career is flourishing, and with her jetting off to LA more frequently, Abby's looking for a "surrogate Maddie," the girl who can take Maddie's place when she can't be there.
And this week, Abby awarded that chance to pyramid topper Kendall, who received both a contemporary lyrical solo and the lead in the group routine.
The two other girls given solos this week were Nia and Chloe. That didn't sit well with Sarah's loud mouth mother, Christ-y, though.
Her complaints were useless. Making it quite clear she doesn't take kindly to outspoken mothers (this is Dance Moms after all), Abby immediately threatened to take Sarah off the pyramid altogether should Christ-y continue to be an annoyance.
Lesson not learned. When the Esmeralda-like costumes for the group routine, "Gypsies, Tramps, and Thieves" showed up and Sarah's wasn't present, Christ-y took it upon herself to ruin her daughter's chances at actually cementing her position on the competition team by calling Abby "garbage." 
And goodbye, Sarah. We hardly knew ye. You can thank your mother for not only her lack of vocal restraint, but also her inability to look outside of her own insecurities to let you go to the competition without her. You'll be missed, Sarah, but as for your mother, good riddance.
At the Shenandoah Valley Powerhouse Dance Competition, Nia's vicious, rabid dog performance, titled "The Underdog," came off much more hip hop than jazz. Nia did well with what she was given, but Holly was right – this definitely wasn't a competitive piece. There was no way this dog collar fashioned routine was going to do any better than its fourth place finish.
Chloe's contemporary piece, titled "I Should Have Known…" (with the added insinuation of "…Maddie, Mackenzie, and Kendall would surpass me, because I don't come to class enough"), was technically sound, but lacked the necessary fire to come in first, falling to second.
Finally, Kendall proved herself as "surrogate Maddie," coming in first for her beautiful solo, "Not Just Another Pretty Face," and leading the team to victory in the group routine.
Kendall was able to turn Abby's doubt into a hesitant belief, but let's face it. That was as good as she was going to get. Abby will never actually let any girl take Maddie's place. Duh.