Yesterday, much to the giddiness of Downton Abbey Fanatics everywhere, the good folks behind this British drama released a number of Season 5 promotional photos.
We made a gallery out of these Downton Abbey pictures, but we've isolated one of the shots as a challenge to readers everywhere.
It features Hugh Bonneville as Robert Crawley and Laura Carmichael as Lady Edith and... let's see: can you spot what else is included in the image? What doesn't exactly belong in early 20th century England?
Look closely. Look in the background.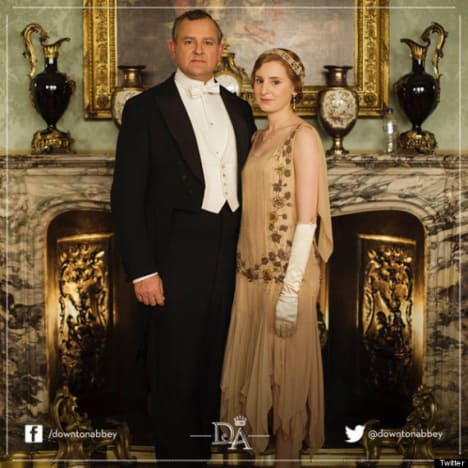 Yup. That's a plastic water bottle!
We're glad those on set are keeping hydrated, but that just gives them less of an excuse to have not realized this modern item was sitting on the fireplace.
For shame, set designers. For hilarious, memorable, pretty fantastically awesome shame.
Downton Abbey Season 5 premieres in the U.S. in January.
Matt Richenthal is the Editor in Chief of TV Fanatic. Follow him on Twitter and on Google+.